Edward Bhesania hears a live-streamed performance from London's Wigmore Hall on 24 November 2020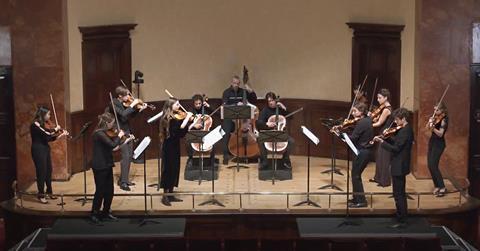 Amid the yo-yoing UK lockdowns, one of the most venerable of British institutions has also proved to be the most agile and creative. Wigmore Hall's rich palette of autumn and spring concerts included the venue debut of the conductorless 12 Ensemble.
They gently squeezed the first of Dowland's Lachrymae Antiquae for all its aching sighs and doleful dissonances, but the performance also oozed pulse-calming warmth and spaciousness. Though composed over 400 years later, Caroline Shaw's 2011 Entr'acte evokes sound worlds old and new. Its three-part minuet-and-trio structure embraces writing that is often homophonic and harmonically familiar but includes 21st-century playing techniques. The ensemble allied the piece's swelling, sighing figures to those of Dowland's and found contrast between its airiness and intensity.
The old/new theme continued in Bartók's Divertimento (1939), which plays on the concerto grosso device of contrasting instrumental groupings. The ensemble presented a beefy tonal core in the opening movement and a gliding amorphousness in the Molto adagio middle movement, before an Allegro assai of spitting vigour. Thomas Adès's 'O Albion' from Arcadiana (1994) again drew together past and present in a performance laced with balm.
EDWARD BHESANIA