One of today's greatest quartets shines a light on late Mozart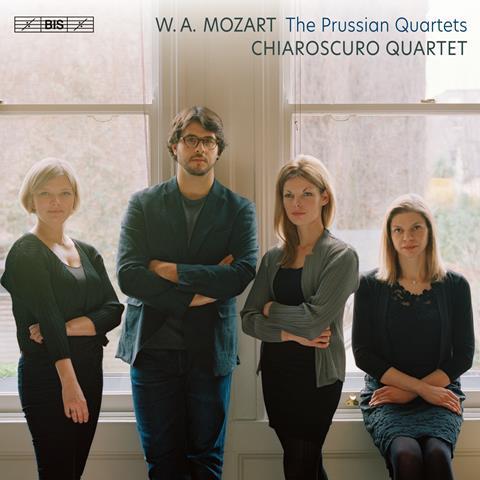 THE STRAD RECOMMENDS
The Strad Issue: December 2022
Description: One of today's greatest quartets shines a light on late Mozart
Musicians: Chiaroscuro Quartet
Works: Mozart: 'Prussian' Quartets: no.1 in D major K575, no.2 in B flat major K589, no.3 in F major K590
Catalogue number: BIS BIS-2558 (SACD)
The Chiaroscuro Quartet, led by Alina Ibragimova, has largely confined its repertoire for BIS to the First Viennese School, and here alights upon Mozart's last three quartets. These were composed in 1789 and 1790 following a visit to the cello-playing Friedrich Wilhelm II, King of Prussia, and to flatter the king Mozart is assiduous in providing plenty of exposed writing for his instrument – even more so than Haydn in his op.50 for the same patron. For the sake of balance, that means solos for all, and this is where the four individual characters of the Chiaroscuro come in, Ibragimova's focused sound contrasting with the generous tone of second violinist Pablo Hernán Benedí, Emilie Hörnlund's eager viola finding its foil in the gently rounded voice of cellist Claire Thirion.
As ever, these players' unity of approach and close observation of the score pay dividends, too: the almost other-worldly sotto voce marked at the opening of K575 means that the sudden forte all of 19 bars later makes its full impact. Some may feel that this hushed tone becomes a default dynamic whenever anything below mp is asked for; others will relish the range of colours available to the ensemble as recorded – closely but not clinically – at Snape Maltings.
Slow movements come off especially well, notably the big Andante of K590, affecting in its apparent simplicity. All that's missing is the playfulness essential to Mozart. Try the Doric's account (Chandos), where the whimsicality of the finale of K590 is more acutely captured. That's on two discs thanks to some more expansive tempos than the Chiaroscuro; also on a single disc is the Engegärd Quartet (LAWO Classics), which is less refined but every bit as enjoyable.
DAVID THREASHER