Anne Inglis reviews Rodney Friend's inspiring volume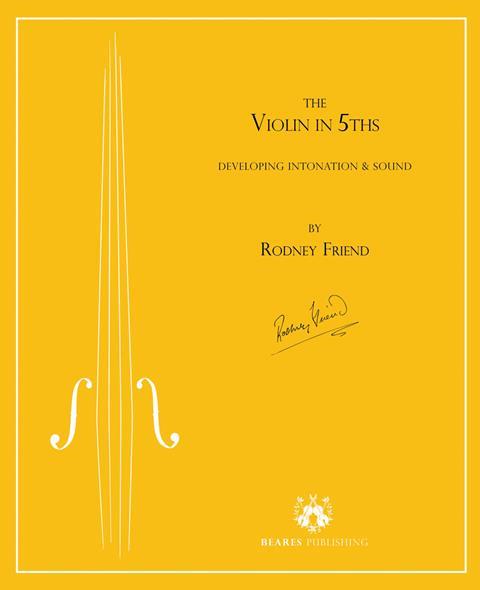 The Violin in 5ths: Developing Intonation and Sound
Rodney Friend
48PP ISBN 9781916445918
BEARES PUBLISHING £45
Rodney Friend has form in assembling material for professional violinists. He has produced The Orchestral Violinist, two books of orchestral extracts, fingerings, bowing and commentary. Now he has written, at first glance, an esoteric volume for the violinist on a much-ignored area in the literature of playing in 5ths. But let's cut to the chase: this is a book for everyone, not just the professional. Beautifully presented in a big format with a bright yellow cover, the book and its contents might be invaluable to any violinist, even quite junior ones.
Throughout, Friend conveys the points he has learnt over the years, referring to many of the greats from Ruggiero Ricci and Isaac Stern to Menuhin, Zukerman, Perlman, and David and Igor Oistrakh. The book opens with an interview with Friend himself, much of which concerns vibrato and its rhythm, sound, tuning, and the left-hand position. Interesting material already. Straight afterwards are several pages of photographs, and these are what captivated my twelve-year-old Grade 5 pupil, to whom I showed the book wondering if she would be interested. Here are pictures of fiddle players through the ages, all of which are used to illustrate (mainly) left-hand positions. So we have perfect postural positions from Heifetz, Milstein, Kreisler, Flesch – anyone who is anyone. They make absorbing viewing and my guinea pig thought – and thinks – they are fascinating. A wonderful lesson tool when covering any postural difficulties.
We then move on to pages – all stunningly printed with acres of white space – of exercises featuring 5ths, and the reasons to embrace them. All advice leads to sound. And this occurs after retraining the hand to find the 5ths using the correct part of the pad, and how the angle of placement will affect the finger, wrist and arm.
There are pages of exercises, some including harmonics in practice patterns, others including patterns directly related to the repertoire. The opening of Beethoven's Violin Concerto is used as an illustration of the importance of 5ths, 3rds, 6ths and octaves. Bach's Gigue in D minor might be performed entirely in 5ths (if you dare). Other excerpts from the literature are shown with the application of 5ths to improve vibrato, or left-hand pizzicato can be performed (as in Paganini) with a finger position developed from 5ths. Says Friend: 'Although it seems complicated to play 5ths, it is actually not if using the natural fall of the hand. Players who practise this interval with vibrato will find that it becomes very easy without having to make much alteration to their natural technique.'
This is an inspiring volume, despite the price tag. American spelling and vocabulary ('practicing', and the use of 'concertmaster' rather than 'leader') are probably included to widen the appeal. Every teacher or player, though, must be able to find several nuggets of interest here, starting with the photographs. This is a wonderful resource.
ANNE INGLIS
Click here to buy this book at The Strad Shop
Click here to enter a competition to win one of five signed copies of Rodney Friend's book