Discover the Cremonese landscape in a curated itinerary from a musical point of view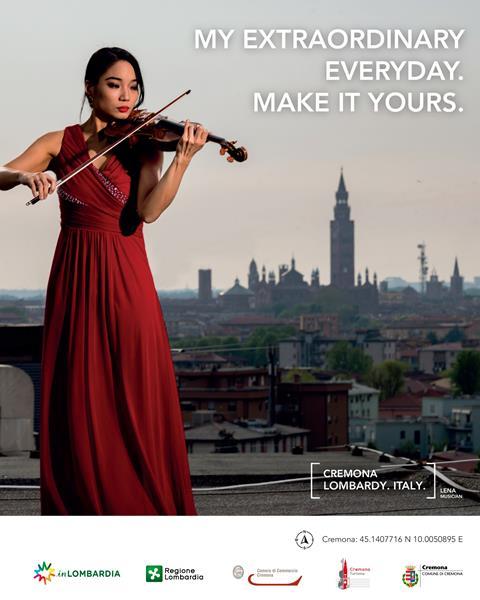 Can you hear the music? It comes from Cremona, the place where music comes to life and grows every day, spreading its magic all around. In Cremona every location has its own distinctive sound, and we are here to help you hear it.
The musical city of Cremona is a distinctive destination to consider when planning international travel. Situated in the northern Italian region of Lombardy, Cremona is found on the bank of the River Po. Celebrated as a centre of instrument manufacture, Cremona's history features the violins of the Amati, Guarneri, and Stradivari families—highlighted in the new Museo del Violino. The city is well renowned for its luthiers and musical traditions, makes for a perfect visit for any fan of stringed instruments, and is a wonderful place to perform with your orchestra, band, or choir.
The project 'Cremona, a place to play' (promoted by the Cremona Municipality, Cremona Chamber of Commerce and the Lombardy region) is a special itinerary developed especially for tourists who love music and want to discover the Cremonese landscape from a musical point of view. Cremona is considered a 'city of music', famous for its violin making tradition, and especially for the rich programme of live shows and musical performances regularly organised in the town and surrounding villages. In Cremona, for example, you can find the famous Ponchielli Theatre: it is considered a mini version of Milan's La Scala, as it boasts rich and amazing decoration with three levels of boxes, a balcony and gallery. It offers different kinds of shows, conferences, concerts, plays and opera. It is definitely the centre of Cremona's cultural life.
Cremona is the home town of some famous and important artists, such as Antonio Stradivari, Claudio Monteverdi, Marcantonio Ingegneri and Amilcare Ponchielli. Over the centuries it has developed a long history of art and music. When you arrive in Cremona, a visit to the Violin Museum is an absolute must, along with a performance at its wonderful Giovanni Arvedi Auditorium. This famous concert hall, the result of an innovative architectonic project, underlines the status of Cremona as the capital city of music and the violin. The Violin Museum offers everyone an unforgettable musical experience.
Simply walking around the city centre is an experience not to be missed. Cremona's narrow streets are still full of violin making workshops, where you can speak with the violin makers, touch the instruments and discover every single secret about this complex and wonderful art. It is impossible to capture the essence of the violin making tradition in words; everyone needs to come and enjoy it personally! The unique art of violin making in Cremona is so special that in 2012 it was added to UNESCO's list of Intangible Cultural Heritage: the city's history cannot be divided from its workshops where, more than 500 years ago, the violin was born.
Crema, 40 kilometres from Cremona, can also boast an important musical tradition, specifically the art of organ making. The town is the seat of several artisan workshops that produce and restore organs and organ pipes. Then tourists can visit Casalmaggiore, passing through the little village of Ripalta Guerina. This contains the Villa Monticelli-Toscanini, bought in 1936 by conductor Arturo Toscanini who chose this quiet place in Crema's countryside as the ideal location to prepare his scores. It is also worth visiting Soncino, voted one of the most beautiful villages in Italy because of its ancient walls and wonderful castle.
Finally, the itinerary offers tourists an unforgettable 'musical food tasting' experience. Everyone can choose from a long list of restaurants that offer menus specifically dedicated to music. Art, food and music are the main characteristics of Cremona and this new itinerary represents a great opportunity to experience and enjoy them all.
Cremona is a place to play, where you can perform everywhere.