Janet Banks reviews a book of exercises to improve violin technique, transcribed for cello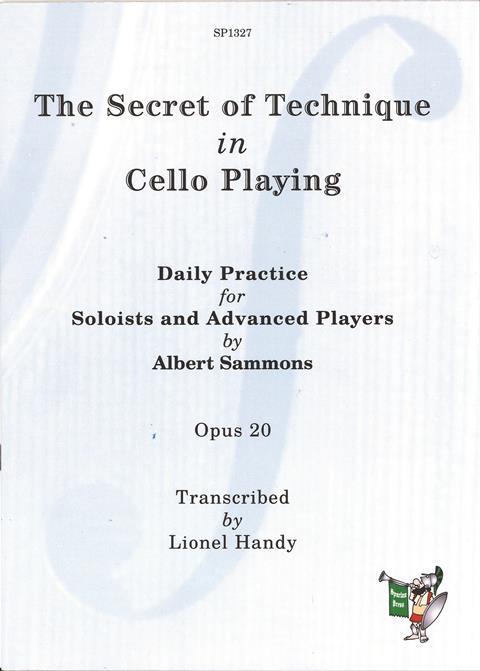 The Secret of Technique in Cello Playing
Albert Sammons, transcribed for cello by Lionel Handy
32PP ISMN 9790579983279
Spartan Press £9.95
Is it possible to transcribe successfully a book of exercises to improve violin technique, for the cello? And would Albert Sammons, dedicatee of Delius's Violin Concerto and composer of the exercises, have approved the swap?
Lionel Handy, professor of cello at London's Royal Academy of Music, came across Sammons' 1916 Secrets of Technique in Violin Playing through violinist Hugh Bean, who had learnt with Sammons for nearly 20 years. Bean claimed that he owed his ability to maintain his technique to Sammons' daily practice exercises, and prepared a new edition of the work in 2002, two years before his death.
This sparked Handy's interest enough to wonder if cellists, too, could benefit from Sammons' very practical, down-to-earth methods. The resulting slim publication, he says in his foreword, is offered to help aspiring and established cellists to use their practice time to the full, especially when practising in difficult conditions, such as when on tour.
The book contains Sammons' original annotations as well as notes by Bean and further ones from Handy, addressed specifically to cellists. Although some notes are in boxes, there is unfortunately no key given as to who wrote which comments.
Within the book's 32 pages are all the right- and left-hand exercises you would expect, in concise form – for trills, 3rds, octaves, heavy and light spiccato, and so on – plus a marvellously useful condensed three-page section right at the end, entitled simply 'Bowing Technique'.
Handy states in his foreword that some adaptation of Sammons' original exercises has been necessary and that some of the exercises offered are unorthodox for cellists. Whether he should have gone further in adapting the left-hand exercises to the needs of the cellist is debatable, but I certainly felt that some of the fingerings – for instance the consistent use of the fourth finger above the mid-point harmonic and the constant shifting needed to play the 'Bow Arm' exercise as Sammons wrote it – were too close to the violin original for comfort.
JANET BANKS