Celia Cobb casts her eye over the newly released, and completely overhauled, volumes by the LCM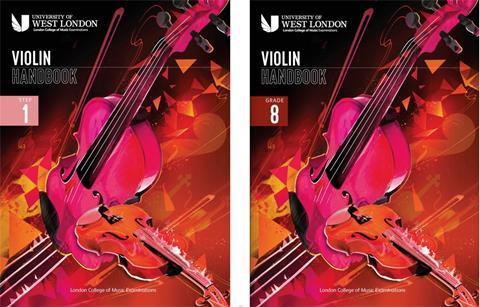 London College of Music Violin Handbooks
Step 1: 16pp ISMN 9790570123483 £7.95
Step 2: 20pp ISMN 9790570123490 £7.95
Grade 1: 48PP ISMN 9790570123506 £8.95
Grade 2: 56PP ISMN 9790570123513 £9.50
Grade 3: 64PP ISMN 9790570123520 £9.95
Grade 4: 80PP ISMN 9790570123537 £10.95
Grade 5: 88PP ISMN 9790570123544 £11.95
Grade 6: 112PP ISMN 9790570123551 £12.95
Grade 7: 120PP ISMN 9790570123568 £13.95
Grade 8: 156PP ISMN 9790570123575 £14.95
The new London College of Music (LCM) violin handbooks are a handsome set of volumes. Everything from the attractive covers to the beautifully spaced-out content, printed on non-dazzling slightly off-white paper indicates that these books have been carefully planned and thought out. Each volume contains not only repertoire and accompaniments, but technical work, specimen sightreading and aural tests, as well as comprehensive notes on the pieces, including violin-specific technical suggestions, and information about the composers, their backgrounds and compositional styles. LCM offers an impressive array of assessments, including 'traditional' exams as well as ones that are more focused on repertoire and performance, with in-person, recorded and online options. While the handbooks are designed to prepare fully for the traditional exams, which include scales or studies, sightreading, aural tests and a 'discussion', they could also be used for the 'Leisure play' or 'Recital' options as well as by those who are not looking to prepare for an exam.
The series includes two pre-Grade 1 books, called Step 1 and Step 2. Both are well thought out, but reasonably difficult in terms of what one might expect from learners in the first year; the repertoire is more difficult than the Trinity or ABRSM Initial grades, for example, and an 'average' student might find the rate of progress towards Grade 1 a little de-motivating. Although there is much excellent material in these early grade studies, all but the most able learners would probably struggle to master much of it. Techniques used include long double-stopped notes, fast string-crossings, left-hand pizz followed by fingered arco notes, hooked bows and more – all worthy of study, but possibly a little out of the comfort zone of young beginners.
From Grade 2 onwards, the repertoire seems more in line with that of other exam boards. The lower grades include a good mixture of compositions and arrangements by favourite educators such as Kathy and David Blackwell, Adam Carse, Mary Cohen, Sheila Nelson and Polly Waterfield, as well as some new works, and the upper grades include some of the 'standard' repertoire as well as introducing some lesser-known works. Female composers are well represented throughout the series, and efforts have clearly been made to produce a syllabus that is as diverse as possible, without ignoring well-known favourites.
Of all the handbooks, the Grade 4 book stands out as a gem. Whether or not you plan to make use of the LCM exam system, the repertoire in this volume makes it a fabulous teaching resource, perfect for that slight post-Grade 3 slump experienced by many students of 'I can shift but haven't yet mastered vibrato, and I need to work more on bow division – what can I play now?' Old favourites such as Küchler's Concertino in D nestle by a great mixture of 'fun' pieces. There are also opportunities to work on expression and tone with Richard Rodney Bennett's gorgeous All in a Garden Green and a very satisfying arrangement of Smetana's Vltava.
It is worth noting that there is no audio content to accompany the handbooks. Since ABRSM has its all-singing, all-dancing Violin Practice Partner app and Trinity has plenty of digital content available to stream and download, it seems that LCM has slightly missed a trick here.
CELIA COBB