Wonderfully elegant and well-balanced interpretations of two concertos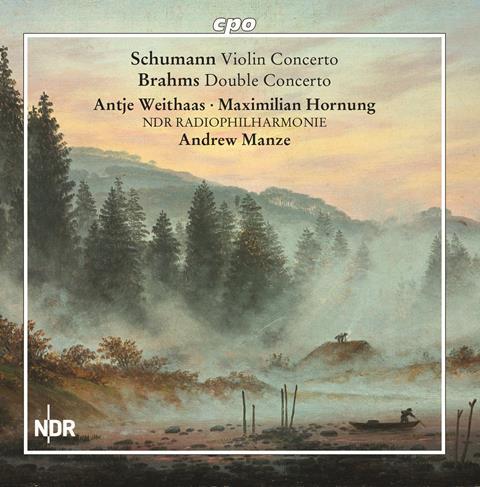 The Strad Issue: April 2020
Description: Wonderfully elegant and well-balanced interpretations of two concertos
Musicians: Antje Weithaas (violin) Maximilian Hornung (cello) NDR Radiophilharmonie/Andrew Manze
Works: Schumann: Violin Concerto in D minor. Brahms: Concerto for violin and cello in A minor op.102
Catalogue Number: CPO 555 172-2
Andrew Manze's background as one of the leading HIP violinists of his generation pays special dividends here as he shapes and details two of the most challenging of 19th-century concerto scores (the Schumann most notoriously) with an impassioned sensitivity that dissolves any potential problems into a compelling expressive narrative. Antje Weithaas could barely hope for a more sympathetic partner, as she caresses and revels in Schumann's essentially pianistic inspiration with a devoted spontaneity and radiant flair that brings this elusive score fully to life in a way unmatched on disc.
Schumann's sometimes clunky attempts at Mendelssohnian virtuoso fizz sound almost impossibly elegant and poised here, as Weithaas surfs potentially becalming passages of pyrotechnical 'filler' with a devoted exuberance to suggest white-crested surges of inspiration. If the modern tendency is increasingly towards rhythmic and dynamic literalism in the classics, Weithaas and Manze imbue Schumann's poignant invention with an emotional pulse that is deeply affecting.
Much the same applies to Brahms's 'Double' Concerto, which avoids any potential sense of turgidity as the NDR players match Weithaas's and Maximilian Hornung's bracing eloquence and urgent spontaneity with pinpoint flair and accuracy. There is typically well-balanced, tactile sound from CPO, blending bass clarity with sonic dynamism.
JULIAN HAYLOCK