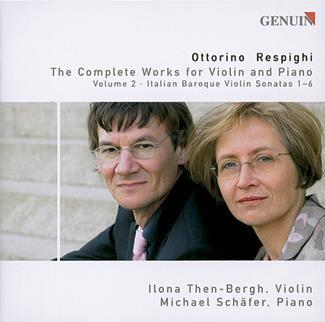 Musicians: Ilona Then-Bergh (violin) Michael Schäfer (piano)
Composer: Respighi
Respighi was both a teenage prodigy, revealing flair in every sphere, and – with Malipiero, Casella and others – influential in the rediscovery of early Italian music that had languished neglected for years, such as Frescobaldi and Vivaldi.
Vivaldi features here, though not as the most memorable item. Ilona Then-Bergh and Michael Schäfer are two seasoned Munich-based players: by 19 she was the first-ever female leader of the Bavarian State Orchestra, and later of the Bavarian RSO, whose leading lights included as masterly a violinist as Lorin Maazel.
The pair have preferred a plainish presentation, perhaps to match turn-of-the-century practice for these arrangements with piano, Schäfer realising his rather restrained accompaniments from a rather stolid-seeming figured bass. The Vivaldi Sonata in D major comes across as a rather surface reading, sweet and charming, determinedly straightforward without much feel of undertow. Giuseppe Valentini's G major Sonata enlivens in the Vivace, thanks to Schäfer's scampering drive: overall I find his supportive, sometimes over-legato readings almost too deferential, though mildly more galvanising than hers.
The series's great asset is this unusual repertoire. The Adagio of the C major sonata by Handel's London rival Nicola Porpora is beautifully poised: both here and in the Bach-like Adagio, Then-Bergh's brightly alluring tone finally beams through in bird-like decorations. Three Veracini sonatas, including an A major work launched by a noble Prelude that invites the Kremer treatment, are full of charm (a sprightly Gigue and ensuing Largo stand out), and performers will certainly be grateful for their rediscovery (sonatas nos.7-9 will appear later this year). The Genuin sound is adequate rather than inspiring.
Roderic Dunnett