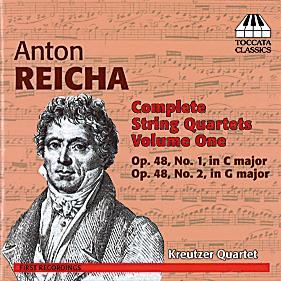 The Strad Issue: January 2013
Description: An important if flawed release of music by a Beethoven contemporary
Musicians: Kreutzer Quartet
Composer: Reicha
When considering the works of Anton Reicha (1770–1836), one finds that comparisons with Beethoven are inevitable. These quartets come out of this rather well: they are experimental in conception, idiosyncratic in texture (which doesn't always work – I'm not fully convinced by the busy part-writing in the second movement of op.48 no.1) and ardent in intention – a window upon Viennese Classicism's many faces. The opening sonata–allegros are especially effective, and the urgency of the high-tessitura writing in op.48 no.2 is haunting.
With enthusiastic and thoughtful booklet notes, including perceptive comments by the Kreutzer Quartet's first violinist Peter Sheppard Skærved, this disc is an excellent advocate. The Kreutzer players perform intelligently, especially in op.48 no.2, although the frequent pairing of voices in the first and third movements of op.48 no.1, for example, can result in some rather slipshod intonation, which happens a bit too often for my liking, and there is an uncertainty in the approach to the first movement of op.48 no.1 which is disappointing.
Toccata's recording favours treble sonorities a little too much, but these blemishes do not detract from the interest and importance of this disc.
David Milsom