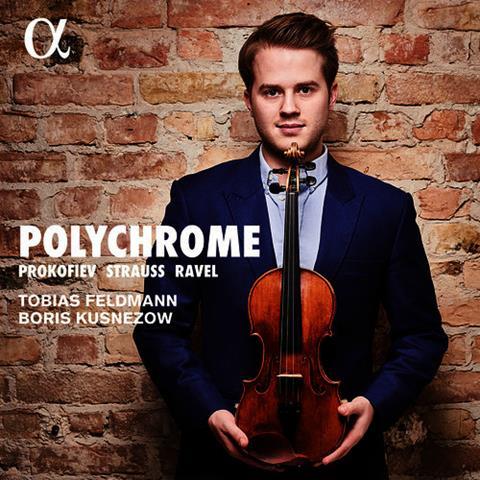 The Strad Issue: June 2017
Description: A multi-sensory approach brings a vivid recital to colourful life
Musicians: Tobias Feldmann (violin), Boris Kusnezow (piano)
Composer: Ravel, Prokofiev, Strauss
Catalogue Number: ALPHA CLASSICS 253
The colour palette at the heart of Tobias Feldmann's Polychrome disc is an exacting, not to say synaesthetic, one, as he reveals in the accompanying notes. 'For me, Strauss is more or less flaming red, Ravel more of a blue-green, and Prokofiev is far more black and white – a cooler kind of tonality.' Luckily, Feldmann's notional hues are just the starting point for a recording rich on tonal light and shade, with pianist Boris Kusnezow giving well-judged support.
Ravel's less familiar Sonate Posthume, written while he was still a student, is vivid and impressionistic, hinting at the glories to come in the later G major Sonata. In Feldmann and Kusnezow's capable hands it is bewitching, and over far too soon.
Prokofiev's capricious Sonata no.2 has a deliciously carefree elegance, albeit briefly overcast by a slight murkiness in the violin's fiendish, quicksilver runs of the second movement. Feldmann traces the bluesy circling of the third movement with grace and tenderness, a perfect foil to the final lithe and lovely Allegro. In Strauss's youthful E flat major Sonata, the only disappointment is Feldmann's audible sniffs, which become more and more obtrusive. Yet the heartfelt abandon and energy he and Kusnezow bring to Strauss's impassioned romancing cannot help but bring its array of lavishly detailed colours to life.
Catherine Nelson