The violinist was given the choice of checking her Guarneri 'del Gesú' into the hold or catching a later flight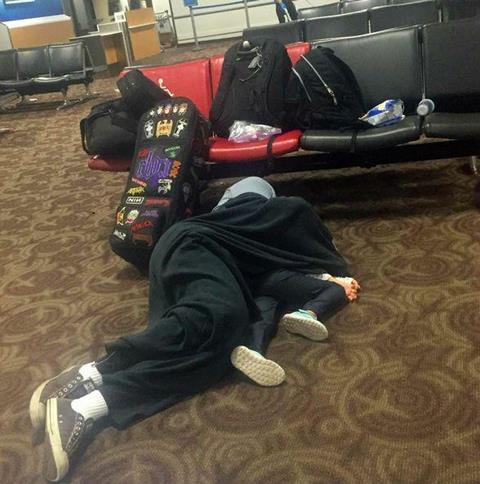 Violinist Rachel Barton Pine found herself sleeping in an airport terminal during the early hours of Monday after being told that her violin would not fit in the overhead bin of her US Airways flight.
The musician was flying with her family from Phoenix Sky Harbor Airport to her home in Chicago with her 1742 Guarneri 'del Gesú' 'Soldat' violin. She was told by staff that there was no room in the cabin for her instrument, and was given the option of checking the violin into the hold or waiting for the next flight.
'There was already stuff in the bins,' Pine told WQXR. 'That being said, there was certainly room if a few people's backpacks had been removed and the violin had been placed at the back of the bin. There was room for it but only with a bit of re-arranging, which they decided to not allow us to do.'
Pine elected to catch the following flight and remained in the airport with her husband and her four-year-old daughter, as their luggage was still on the original plane. In a series of posts on Twitter she gave updates on her status and published a photo (right):
'Well it was bound to be my turn eventually. @USAirways wouldn't fit the del Gesu overheard so I had to exit the flight ... without suitcases'
'Trying to get on a 5:30am flight home since the 11:59pm @USAirways one wouldn't accommodate my 1742 Guarneri. Suitcases on original flight.'
'Happy to report my violin and family and I are comfortably boarded and will land in Chicago in 3 hours. Thanks for your support everyone!'
American Airlines, owner of US Airways, later responded:
'@RBPviolinist Rachel, We see that you took a later a flight and wanted to be sure that all was well.'
The airline's cabin baggage policy states: 'In order to travel with your musical instrument as a carry-on, there must be carry-on space available for your musical instrument, in the cabin in which you are traveling, at the time you board the aircraft. We will do what we can to accommodate your musical instrument but will not move other passengers' belongings to accommodate a musical instrument.'
Last year Time for Three's two violinists were refused access to a US Airways flight with their instruments.
However, earlier this week Air Canada announced several improvements to its carry-on baggage policy for musical instruments – including priority boarding for musicians.