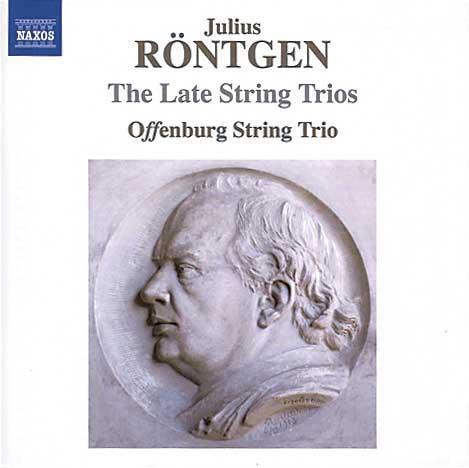 The Strad Issue: December 2014
Description: Characterful playing of works in a late flowering of 19th-century style
Musicians: Offenburg String Trio
Composer: Röntgen
The Offenburg String Trio plays these Röntgen trios with style and evident affection. And why not? This collection of 16 trios must be a treasure trove for all string trios eking out their rather small repertoire. Julius Röntgen (1855–1932), a friend of Brahms and Grieg, is a firmly 19th-century composer, although these trios were all written between the world wars. The Offenburg Trio gives an amiable account of the 13th Trio: in the second-movement Andantino the fiddles weave mellifluously while the cello rumbles below; the quirky folk dances of the third movement are played with neatness and precision; and the last movement, the longest and most wide-ranging, opens with a long cello melody played with restrained expression by MartinuMerker, before a long paragraph of gathering anguished intensity. The last three trios are all in minor keys, although they're often quite genial.
The Offenburg players mix tenderness with dry, clipped playing in the scherzo of no.14, and show finely contrasted characters in the variations of the finale. The first three movements of the 15th Trio are delicately played, wistful and lyrical, before the players set off energetically into the ebullient fourth movement, the wonderfully named 'Finale automobilistico', complete with car-hooter effect in the viola. The last Trio inhabits more troubled, melancholy territory, particularly in its outer movements, and there is subtle, responsive playing here, with anguish in the final Allegro passionato. The recorded sound has warmth and space.
Tim Homfray