Ole Böhn chose to miss his flight rather than let the violin travel to Sydney in the hold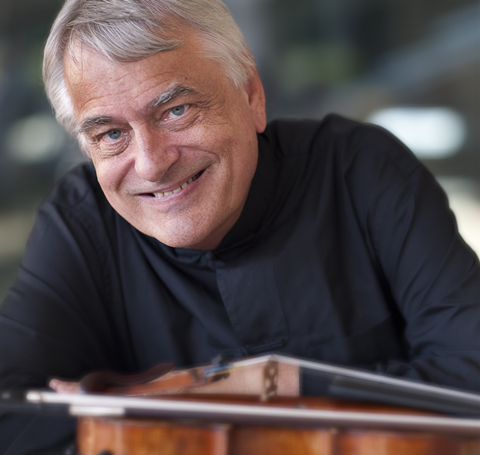 Norwegian violinist Ole Böhn has claimed he was forced to miss a Qantas flight from Santiago, Chile, to Sydney, after he was refused permission to take his violin on board.
Taking to Facebook to express his frustration and solicit advice, Böhn wrote: 'I have just been denied boarding Qantas flight 28 from Santiago to Sydney. They demand my violin go in the luggage department and I have refused. Trying to book on Latam and see if they accept! This is just disgusting!'
Böhn, whose violin is a 1766 Guadagnini purchased for him by Nordea Bank, performs and teaches internationally. He is particularly associated with Elliott Carter's violin concerto of which he is the dedicatee and gave the world premiere in 1990 as well as many performances subsequently.
He was on his way to Sydney to teach at the Conservatorium of Music where he has been on the faculty since 2009.
'Qantas is supposed to have a decent musical instrument policy allowing to take violins onboard,' he wrote while at Santiago having abandoned the Qantas flight and booked a later one with Chilean carrier Latam.
'The manager in Santiago refused to show me the rules not letting me to keep the violin onboard. Of course he did – Qantas actually allows you to take the violin with you!'
This is confirmed by Qantas policy as stated on its website:
'Your Musical Instrument (eg: guitar, flute, violin, cello etc) can be carried as part of your carry-on baggage allowance, if the following requirements are met. Your musical instrument must:
– weigh no more than 7kgs (15lbs);
– have maximum total dimensions of 142cm (56in): L 85cm (33.5in) x H 34cm (13.4in) D 23cm (9.1in)*
– be in its hard-shell case for appropriate protection; and
– be placed in the overhead locker, not on the floor.'
The story had a happy ending with Böhn sending a final update from Santiago: 'Not the slightest problem boarding Latam flight to Sydney. On the contrary, the hostesses onboard wanted to help me to make sure the violin had a good spot in the compartment over my seat!
'Check in staff at the gate also very friendly! Qantas has something to learn!'
A Qantas spokesperson told The Strad: 'We'll be reaching out to the customer when he arrives back in Sydney. We're also speaking with our ground crew in Santiago to see what occurred. We apologise for any inconvenience caused.'