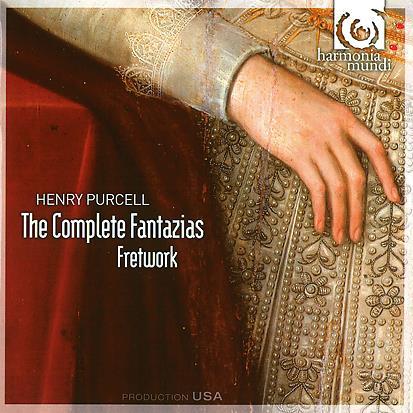 The Strad Issue: January 2009
Musicians: Fretwork
Composer: Purcell
Amazingly, Henry Purcell's fantazia's in four parts were all written in one concentrated burst of creativity, the first seven dating from almost consecutive days of June 1680, with the remaining two coming from August of the same year. The canon of Purcell's consort music, recorded here in its entirety, includes six further works in three, five (the celebrated Fantazia upon one note, once recorded by the Zorian Quartet with Benjamin Britten playing the 'one note' on the viola), six and seven parts. This is music that combines an extremely intense expressivity with an incredibly complex level of contrapuntal ingenuity. For example, the last four-part Fantazia climaxes in a passage combining single, double and triple augmentation.
The members of Fretwork are excellent at bringing out the music's polyphonic intricacies, with a chaste sound almost completely devoid of vibrato. Others may have brought more passion into Purcell's polyphony, such as the Ricercar Consort (on Mirare) and, even more, Yehudi Menuhin and friends back in the 60s (an EMI recording for which I confess having a very soft spot). But Fretwork's unassumingly virtuoso style has an endearingly ear-cleansing quality, exposing and relishing some unbelievably daring dissonances. The recording, which I find slightly top-heavy, is set within a relatively dry acoustic, so that even the six- and seven-parts pieces are wonderfully clear. The only possible reason for complaint is the CD's relatively short measure (50 minutes): music and music-making of this calibre makes one wish for just one more piece.



Carlos María Solare