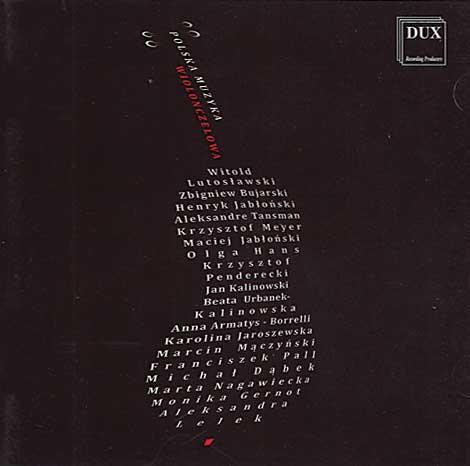 The Strad Issue: December 2014
Description: Vivid playing in works written for different numbers of cellos
Musicians: Jan Kalinowski, Beata Urbanek-Kalinowska, Anna Armatys-Borrelli, Karolina Jaroszewska, Marcin MÄ…czyŠ"ski, Franciszek Pall, Michal MichaŠ' DÄ…bek, Monika Gernot, Marta Nagawiecka, Aleksandra Lelek (cello)
Composer: Lutoslawski, Bujarski, H. Jablonski, Tansman
It's hard to have too many cellos, and eight produce a gloriously sumptuous timbre that is all but orchestral in range. This warm recording amply serves Penderecki's Agnus Dei, an arrangement from his Polish Requiem made to honour Rostropovich's memory. The interpretation is incisive and bold, the ensemble impeccable, and the expressive qualities eloquent.
The whole concept of this CD is imaginative, offering a variety of 20th- and 21st-century music, with each work adding an instrument to the number of the previous piece, progressing from one to eight cellos. Yet for all that richness, Lutoslawski's Sacher Variation for solo cello is still possibly the most vivid work, in terms of the impact of its ideas. Maciej Jablon´ski's Cordissimo!!! and Krzysztof Meyer's Introspection are perhaps the most obviously in Lutoslawski's mould, with acerbic and pungent bitonal utterances. Again the delivery in all three works is flawlessly dramatic and well-etched with imaginative timbral colours generated from the cellists' combined forces.
Works by Zbigniew Bujarski (Adagio) and Olga Hans (Sun Songs) are more conventional in terms of harmony and melodic lyricism. The writing is atmospheric, strikingly precise and vivid, the performers proving worthy servants. But it is Tansman's Deux mouvements that provide the most direct invention, with irresistible rhythmic syncopation and jazz influences once again brilliantly conveyed.
Joanne Talbot