Andrew Morris explores the early life and compositions of Eugène Ysaÿe, in this extract from July 2008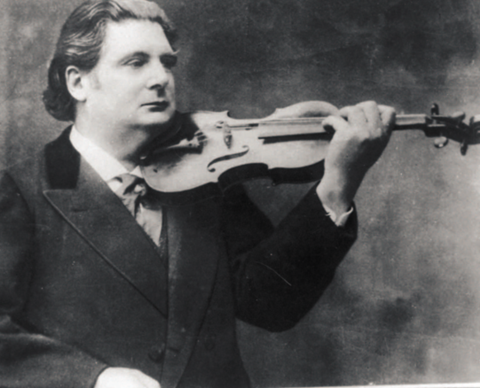 The following is an extract from the article 'Poetic Injustice: Ysaÿe' which featured in the July 2008 issue. To read the full article, click here
Ysaÿe's pieces, although rarely performed, reveal a composer who often sought inspiration in poetry and whose music was inseparable from his unmistakable playing style. Chausson, Debussy and Franck were all inspired to pen works in collaboration with Ysaÿe. His early advocacy of Elgar's Violin Concerto established it as a classic. Yet many of his own works for strings have failed to find a place in the repertoire and, lacking committed advocates, they have gradually disappeared from concert programmes. Born in 1858 into a musical household, Ysaÿe had his introduction to the violin under the strict instruction of his father. He won a place to study at the Liège Conservatoire in 1865, but Ysaÿe fought against his teachers and was dismissed shortly afterwards because of his lack of progress. He continued to study at home and earnt money by playing in the local theatre orchestra.
In his father's cellar, he practised the new works of his idols, Wieniawski and Vieuxtemps. Ysaÿe considered the work of Vieuxtemps in particular as ideal. A composer and an internationally renowned soloist, Vieuxtemps became a mentor to Ysaÿe and played a vital part in his early success. Antoine Ysaÿe's biography of his father tells the story of Vieuxtemps passing the Ysaÿe household and hearing the sound of his own Fifth Violin Concerto coming from a basement window. This was the playing of no amateur: Vieuxtemps knocked on the door and asked to meet the talented player. He was stunned by Ysaÿe's ability and insisted he be reinstated at the conservatoire under his own tutelage. This time Ysaÿe made a great impression and soon became the most respected of violin students. He spent his spare time composing, and although he received no lessons in harmony or counterpoint, he drew on the music of the great violinist–composers of the day to guide him. His early miniature, the Saltarelle carnavalesque, strongly recalls Wieniawski's Scherzo Tarantella.
Few of Ysaÿe's earliest works survive: only an unremarkable set of variations on Paganini's 24th Caprice, three delicate mazurkas for violin and piano, and just one of eight violin concertos remain from his early years of touring and study. Ysaÿe chose to destroy these early concertos, dismissing them as 'without real value, imitations of Vieuxtemps'. The last concerto, written some years after the first seven, moves beyond pastiche: the violin writing leans towards restrained expressivity and a unity with its accompaniment. This piece was an important step towards the Poème élégiaque, written around 1893, which cemented Ysaÿe's voice as a composer. He would extend the chromaticism of his musical language throughout his six further poèmes, but the Poème élégiaque opens a rich vein of melancholy that would come to define Ysaÿe's musical expression. On his first attempt, Ysaÿe establishes a rhapsodic structure of rising turmoil and receding resignation that forms the blueprint for much of his later music.
Already, his active imagination stretches the limits of his instrument – the G string is tuned down a tone, lending a viola-like sonority to the violin's bass register. With this early success came a touching exchange between Ysaÿe and his French contemporary, Chausson. With considerable help from Ysaÿe, Chausson composed his famous Poème for violin and orchestra, in response to Ysaÿe's Poème élégiaque. Following Chausson's tragic death in 1899, Ysaÿe continued his work in the form. His third poème, Chant d'hiver (Song of Winter), is among his best works. The music is again imbued with tragedy; the final retreat into silence is protracted as the texture thins to little more than skeletal harmonics.