Three string teaching experts answer a reader's question for The Strad's Teacher Talk series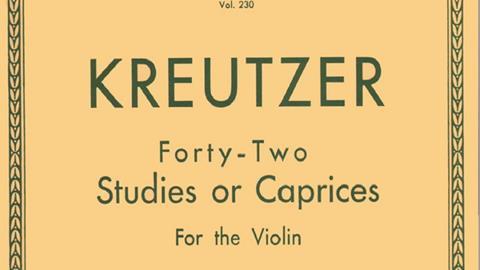 Is it important to play etudes and presentation pieces perfectly?
BORIS KUSCHNIR Etudes should be learnt and performed as perfectly as possible. Most of the time, their main purpose is simply to focus on a clear technical task and not so much on the musical aspects. On the other hand, while also trying to reach a very high technical level, I like to focus on their musical aspects, praising individual characteristics of the student's playing and paying less attention to small technical mistakes.
MIMI ZWEIG I like my students to play from the beginning of an etude to the end without stopping, with accurate rhythm, intonation and quality of tone. I present etudes in a sequence that allows for logical technical development. Each etude reinforces the previous one and adds a new element that needs to be mastered.
The same applies to repertoire. If a student is trying to play the Tchaikovsky Concerto but does not have a good sense of musical structure, bow strokes, shifting or vibrato, this piece is most likely too difficult for them. It is important to sequence repertoire that allows for growth from one piece to the next.
GÉZA SZILVAY Studies must be practised with utmost precision. Masterworks, concertos, sonatas and performing pieces are brimming with technical difficulties and the majority of students experience them as obstacles to the ideal interpretation of the composition.
When they are well chosen and well practised, etudes (or excerpts from a study) from the rich string repertoire prepare the student's technique to meet various technical requirements, thus enabling the player to focus on the content and interpretation of the masterwork. Studies are like keys that open the secret doors of a demanding concerto or virtuoso piece. Keys must be well turned and polished because only a perfect key functions.
BORIS KUSCHNIR is violin professor at the Vienna Conservatoire and at the University of Music in Graz
MIMI ZWEIG is professor of violin and viola and Director of Pre-College Strings at Jacobs School of Music, Indiana University at Bloomington
GÉZA SZILVAY is co-author of the Colourstrings teaching method and principal of the East Helsinki Music Institute
Read: Advice for instrumental teachers by 5 string experts
Read: How long should a music student practise a piece?
Read: Should violin students take a long summer break without practising?