The Franco-Belgian cellist gave an impassioned premiere performance of Fazil Say's cello concerto 'Never Give Up' in 2018, and has now recorded the piece for Deutsche Grammophon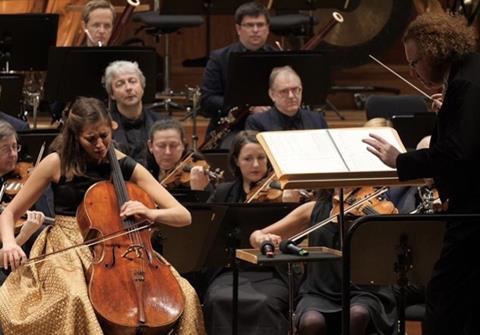 Performing the world premiere of Fazil Say's cello concerto 'Never Give Up' in 2016 was one of the most emotional experiences I've ever had as a cellist. It's mentally and physically demanding, as well as truly inspiring and moving.
The genesis of the project was in 2014 when I first met Fazil at the Victoires de la Musique awards and he mentioned that he'd like to write a concerto for me. The next year, on 13 November 2015, a series of terrorist attacks took place in Paris, and a few weeks later there was a bombing in Istanbul. Fazil decided the concerto would be his response to these atrocities, and from that came the title. I think that, as a very politically engaged artist, he embodies the idea of refusing to give up, on his country, his opinions and his ideals, and I agree with his view that we musicians can stand up for those beliefs through our music. Art will always be a way to convey things that can't be expressed through words, and here he wanted to communicate the message that, even in these difficult times, we can never give up hope on humankind.
I was involved in Fazil's creative process right from the start. He'd send me handwritten pages and ask me if they were playable on the cello; he knows the instrument very well and it was easy for me to tell where the emotion was coming from in each movement. The first movement begins with a solo cello line representing the desire for freedom. When Fazil had finished writing the concerto I met up with him in Istanbul and I played it with him accompanying on the piano. He played the opening for me very rhythmically, using the foot pedals a great deal. But it did not work when I tried to imitate it on the cello, so I had to find a different way to create the tension he wanted on the cello. It was an interesting process, trying to understand what the composer wanted and then transcribe it to interpret his ideas faithfully.
Read: Sentimental Work: Narek Hakhnazaryan

Read: Sentimental Work: Ray Chen
Read: Sentimental Work: Amanda Forsyth
As a Parisian, I remember how it felt on the day of the attacks. I didn't lose close friends but I know several people who did – the feeling was like an invader coming into our home. This was the first world premiere I'd ever played. Any work might evoke feelings and ideas such as love, death, destiny, fate and so on, but this was about something we'd all experienced – me, Fazil, and everyone in the audience, so many of whom had lost loved ones in the tragedy. While I was playing I could see people with tears in their eyes. I was also feeling emotions I'd never felt when performing a new piece. The second movement has the percussion simulating the firing of Kalashnikov rifles and human screams, while the third begins with the sounds of birdsong and rushing water, with the natural world providing the final message of hope. I realised how cathartic the experience was when I started receiving messages from people saying it had helped them overcome trauma. It's the clearest example I've ever had of the power of music to heal and comfort. Since then I've performed the concerto in Germany, Belgium, Canada and Italy, and always had the same reaction.
For me, 'never give up' is a phrase that's defined my whole musical life. I've always had a natural energy burning inside me, the need to play and share music. If you enter a competition and don't win, if you play a concert and think it wasn't good enough, you don't give up – and that means you've achieved something and become better. A musician's life is one of never-ending research, finding something to inspire you and improve; and anything you believe in.
This article was published in the February 2021 Modigliani Quartet issue

The French ensemble on directing festivals, the challenges of performing Schubert and the benefits of collaboration. Explore all the articles in this issue .Explore all the articles in this issue

More from this issue…