Cellist Sifiso Mbatha is a student of the ARCO Project, a long distance online teaching collaboration between the UK and South Africa. Read about how his involvement with the ARCO Project enabled his journey from Soweto, South Africa, to receiving a full scholarship at the Royal Northern College of Music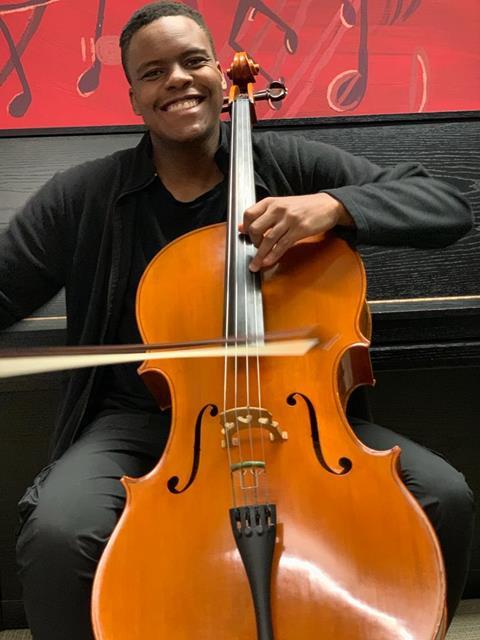 18-year-old cellist Sifiso Mbatha hails from South Africa, and started cello lessons with Daliwonga Tshangela at the Morris Isaacson Centre for Music (MICM) in Soweto in late 2015. Around the same time Sifiso became part of the ARCO Project, a long distance online teaching collaboration run between MICM and the Royal Birmingham Conservatoire (RBC), founded by Louise Lansdown, head of strings at RBC. Sifiso's online teacher at the time was an advanced student at RBC named Griff Wadkin, who even travelled to South Africa in 2018 to teach Sifiso. Griff remained committed to Sifiso's development until Sifiso arrived in the UK in 2020.
On Saturday mornings Sifiso attended MICM where he had theory, ensemble, choir and other music lessons. From 2017-2020 during the week he attended the National School of the Arts, where he had a third cello teacher, Wessel Beukes. During this time, Sifiso became a member of the Johannesburg Youth Orchestra.
As a member of the ARCO Project, Sifiso benefitted from lessons with many wonderful musicians and artists – including Peggy Nolan, Jan Repko, William Bruce, Jiafeng Chen, Alicia Valoti, Lucy Nolan, Tony Alcock and Pavel Fischer. ARCO also supported Sifiso fully to travel to the UK to attend the National Youth String Orchestra in April and July 2019, observe the Lionel Tertis International Viola Competition on the Isle of Man, play a concert at St John's Smith Square and audition live for a place at the Purcell School.
In the middle of the pandemic in 2020 Sifiso was awarded a 70% fee scholarship from the Purcell School. ARCO and the Quartet of Peace (QoP) launched a major fundraising campaign to raise the remaining funds that were needed to secure Sifiso's two year 6th form stint at the Purcell School. Online concerts, private donors and an art auction generously hosted and curated by Strauss and Co managed to raise the outstanding funds.
His life has been a rollercoaster since he arrived in the UK in October 2020, with much of his first year spent in lockdown with Louise Lansdown and Tony Alcock in Birmingham, juggling online learning and working hard to make massive changes in his cello playing whilst adjusting to a new country, culture and work ethic.
Sifiso studies the cello with Ben Davies and Richard Jenkinson at the Purcell School. He has recently been announced as a recipient of the ABRSM Overseas Scholarship to study for a Bachelor of Music at the Royal Northern College of Music from September 2022. The scholarship includes full fees for the entirety of his Bachelor degree and a generous stipend towards his living costs.
'My dream to be a musician would not have been realised if the ARCO Project had not been at the centre where I began my music lessons in Soweto. They have supported me every step of the way, opening doors to a new and incredible world of music-making. The ABRSM Overseas Scholarship absolutely secures my undergraduate education, allowing me to just throw myself into my course and take every opportunity I can.
'I realise this sort of scholarship is an incredible privilege and very rare, and I am more grateful and humbled than I can say. It is my greatest wish to be able to use my education and talents to give back to future generations of South African musicians, hoping that I might help others in the same way as I have been so amazingly supported. I cannot wipe the smile off my face I am so delighted right now.'
Sifiso plays on a South African cello on loan to him, made by Jacobus Jan van der Geest (1970).
Although he has achieved so much already on his path towards a musical career, Sifiso's greatest claim to fame however is learning to drive at age 13, and driving himself in his dad's car through Soweto to his cello lessons at MICM on his own!