In this extract from September 2000, faculty members at some of the world's top music colleges share what they're looking for in an ideal conservatoire candidate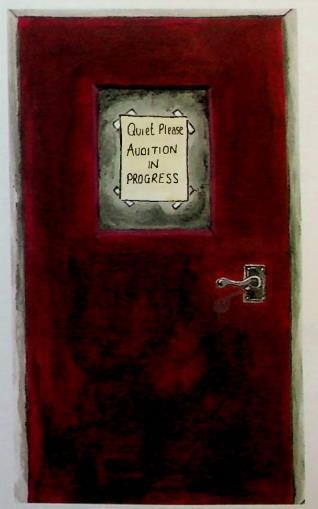 The following is an extract from the article 'College Auditions Advice: When You're Ready' from September 2000. To read the full article, click here
Aside from the basics, there's a quality audition panels throughout the world are looking for. It's a hard quality to pinpoint precisely, but it concerns the ability to make your mark. Lewis Kaplan, from the Juilliard School in New York explains: 'At undergraduate level we require a very high technical level of playing, equivalent to international competition standard. Intonation must be very sound and we must feel that there is potential to grow. Ten minutes is a short time, so you must have a point of view - something to say.
'We're looking for original thought, and for an innate musical quality coming through. Over the last couple of years globalisation has been an enriching factor at Juilliard with pupils coming from Russia, the Balkans. Bulgaria and China. But the school is pretty tough on English as a second language. If a student rates highly in performance but is poor linguistically, they will be given one provisional year but will be expected to score a high result in English as a foreign language tests. Our whole philosophy is that for the 21st century a musician must be broadly based, not just an instrumentalist.
Brian Hawkins, head of strings at the RCM, reiterates this: 'Above all we must be seeing them communicate the music. Inadequate levels of technical competence, or if a student has been taught entirely wrong technique, will contribute towards failure, because one has to remember that there are only four years to put things right. We're looking for people who have brains and awareness. We're good at reading between the lines, and we're looking to see what someone might be able to achieve in a few years' time. We offer a BMus course to every student because it produces more rounded musicians who stand a better chance of getting a job.
'Our postgraduate studies have two major strands, one focusing on orchestral studies, the other oriented towards solo studies and chamber music. For entrance at postgraduate level we would expect an advanced concerto movement, performed at a near-professional standard. At the end of the day the rule of thumb is whether one would be prepared to pay to hear the performance.'
While the whole auditioning process has generally become more humane, there's no desire to take students who are inadequately equipped to cope with the courses offered. Jean Harvey of London's Royal Academy of Music (RAM) explains: 'If the student can't play well we don't want them, and I mean that in the kindest possible way.
'There are the obvious things one looks for such as quality musicianship that exists beyond what has been taught. Any physical problems such as stiff bowing and awkward posture are possible to overcome, but we have to hear that the musical talent is there to deserve further training at college level.
'Postgraduates have much less time and so we are expecting a more advanced approach personally as well as musically. Reasons for rejection at this stage might be very simply be because the playing has not shown the technical or musical quality considered to be necessary. The candidates need to be tough and bright and demonstrate perception. They need to suggest that at each lesson they will absorb information.'
Read: College auditions advice: When you're ready
Read: Orchestra auditions: Success strategies
Read: My audition journey: Hugh Klüger, London Philharmonic Orchestra