For violinist Patricia Kopatchinskaja a bout of tendonitis was the perfect opportunity to widen her musical perspective by taking on the title role in Schoenberg's Pierrot lunaire, as she tells Toby Deller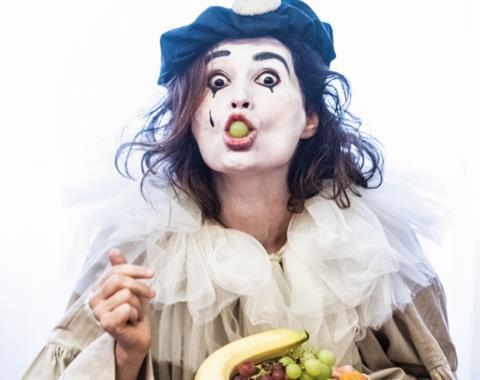 The following is an extract from an article in The Strad's February issue in which violinist Patricia Kopatchinskaja talks about taking on the title role in Schoenberg's Pierrot lunaire. To read in full, click here to subscribe and login. The February 2021 digital magazine and print edition are on sale now.
Since first appearing as Pierrot in 2015, Kopatchinskaja has performed the role live many times (one version with musicians from the Berlin Philharmonic is available at the orchestra's Digital Concert Hall). Her second performance, which she followed up by playing Ravel's Tzigane, was in the unlikely surroundings of an alcohol-free bar in Salt Lake City, Utah. For that she dressed up in costume and remembers trying to decide what makeup to choose, as does her alter ego in 'Der Dandy', the third poem in the cycle. 'I must say, it was a shock when I saw myself in the mirror. I thought, "What am I doing? Now I am completely mad."'
Watch: Patricia Kopatchinskaja on playing Pierrot Lunaire
Although that gave her a strong experience of inhabiting a different persona, she insists that performing in a guise other than that of violinist is no more than an extension of herself. 'It's not another book, let's say: it's the same vocabulary. It just gives even more freedom. I must say performing as Pierrot also helped me to develop, not only as a musician but as a violinist.
'I am moving further and further from this so-called classical tradition which is a big misunderstanding, a huge and damaging misunderstanding. I got even closer to a lively, spontaneous and colourful understanding of the expression of music: going as close as possible to the sense; forgetting about paper and notes, or the scholarly extracts on how to play violin. Pierrot lunaire is such a dreamy landscape where everything is possible, with this lunatic personality: this pale white character, never knowing where he is.'
This article was published in the February 2021 Modigliani Quartet issue

The French ensemble on directing festivals, the challenges of performing Schubert and the benefits of collaboration. Explore all the articles in this issue . Explore all the articles in this issue

More from this issue…