Violinist Darragh Morgan shares his experience of teaching students 8000 miles away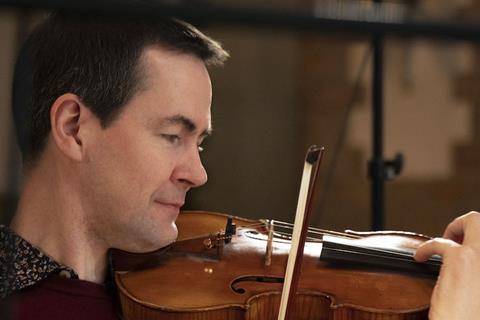 My love affair with Southern Africa began nearly 17 years ago. In 2004 I was invited on a one-year contract to become Concertmaster of the KwaZulu-Natal Philharmonic Orchestra and also fortunate to be appointed Artistic Director of the fabulous Baroque 2000 period instrument ensemble, both based in Durban, South Africa. A stranger said to me at the airport cafe in Durban at the end of my trial period with the orchestra in 2003, 'Africa gets into your soul, once you've been here, you'll always come back'.
They were right. Africa excites me more than any other place, and has a strange sense of homecoming about it. I have made many musical journeys there, directing the Johannesburg Philhamonic Orchestra, visiting the remarkable Buskaid Project in Soweto, giving recitals with the Fidelio Trio in Bulawayo's Zimbabwe Academy of Music (one of the best concert hall acoustics I've ever played in), appearing at Unyazi Electronic Music Festival and playing Vivaldi Concerti with Camerata Tinta Barocca in Cape Town.
Whilst based in Durban (2004-05) I was keen to visit Mozambique. It's only five hours' drive north along the stunning KZN coastline of the Indian Ocean, but unfortunately orchestral scheduling never allowed for it. So, it was with great delight and excitement that I received an invitation last year from the wonderful Eldevina Materula, also known as Kika Materula - former oboist with Orquestra do Porto Casa da Música and recently appointed Minister of Culture and Tourism of the Republic of Mozambique (how many other nations can boast a professional musician as Minister of Culture!).
Kika has been Artistic Director of the Xiquitsi/Temporada de Música Clássica de Maputo Project since its foundation in 2013. Xiquitsi is aimed at social integration and inclusion, as well as vocational training through group tuition in music, thus taking the first steps towards the formation of what will become the first Classical Youth Orchestra in Mozambique. I was so excited to finally get the opportunity to visit Maputo in April 2020 and work with the inspiring young musicians there as part of their Maputo International Music Festival.
Of course we all know what happened next: COVID 19 hit us and the music world has been constantly trying to reignite itself ever since.I thought that was it for me with Xiquitsi and Mozambique for 2020 until an out-of-the-blue email arrived in my inbox from Kika in early August asking me if I would like to take a week of Zoom masterclasses with some of their violin students.
Of course I was delighted and immediately said yes. Alhough I'm not technologically advanced, I had invested in a new MacBook and good microphones during lockdown so at least I knew those students listening 8000 miles away from London would get some sense of what I was describing to them about tone colour and articulation.
Read: 5 benefits to teaching online by violinist Rodney Friend
Read: How to set yourself up as an online string teacher
Kika put me in touch with Maya Egashira, a fantastic Japanese violinist who teaches many of Xiquitsi's violin students. Though currently in Japan, Maya is often in Mozambique and seamlessly (or so it seemed to me) co-ordinated the whole week's masterclasses remotely. Students played to me every day via a Zoom connection from a theatre in Maputo (which has better internet speed it seems sometimes than North London!) and we covered a wide range of repertoire including de Bériot's Concerto No 9, Rieding's Concerto in B Minor, Vitali's Chaconne transcribed for viola, Dvořák's Sonatina, Beethoven's 'Spring' Sonata, Mazas's Etudes, Fiocco's Allegro and much more.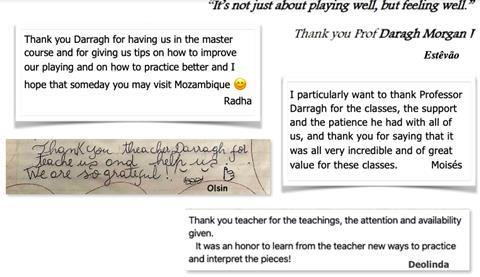 Everybody was obsessed with the violin. With the wonderful help of Argentinian Doublebass teacher Lalo Alemán and Mozambican Clarinet teacher Altino Munguambe, based in Maputo with Xiquitsi, we were able to stream the masterclasses live on Facebook to broadcast on a large screen in another part of the theatre so that socially-distanced musicians could simultaneously observe whomever was playing to me elsewhere in the theatre.
I say seamless as everyone's punctuality was perfect, and their preparation was impressive. But most evident for me was the students' thirst for knowledge and infectious musical enthusiasm. These lovely young musicians managed to make me feel part of their musical community which I found, even over the World Wide Web, a transformative experience.
We also participated in some violin sectionals on Mozart's Eine kleine Nachtmusik (lovely concertmaster leading from Moisés!) and Maya interviewed me on Zoom, an event which evolved into a fascinating Q&A with live contributions from Xiquitsi staff and former students based now in South Africa, Portugal and Brazil.
It was such a positive experience to work with young musicians who have an insatiable appetite for learning and want to improve. They are so musically intelligent that their progress was really instantaneous. Teaching over the internet does have its limitations; there is nothing more rewarding than having that 'in-the-space' live interactive experience between the teacher and a student. However, in the current predicament we as musicians find ourselves, Xiquitsi and their innovative approach certainly worked. I hope I can visit them all in person before long, perform together and even visit the famous Maputo fish market for some tiger prawns!
In the video below, Blandina, one of the Xiquitsi violin students, explains what she has learnt from the Zoom classes: