The Strad's editor Charlotte Smith introduces the December 2021 issue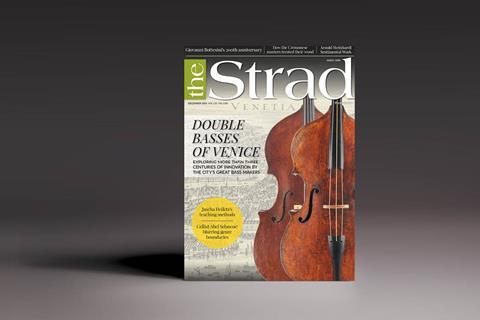 Since its first appearance in the 16th century, the double bass has been championed by a number of leading luthiers and performers. These advocates have not only advanced the instrument's design, but also developed increasingly sophisticated playing techniques, so that today the bass is equally capable of holding its own in solo, chamber and orchestral settings. In this issue we pay tribute to pioneers of the bass world. On page 28, Thomas Martin, George Martin and Martin Lawrence tell the stories of Venice's foremost bass makers, from Matteo Gofriller to Domenico Busan and Domenico Montagnana. 'For 200 years violin making thrived in the city, but it was perhaps when the luthiers turned their hand to making double basses that they were at their most unconstrained,' write the authors.
December 2021 also marks the 200th anniversary of one of history's most famous of bassists, Giovanni Bottesini. This 19th-century Italian virtuoso, often referred to as 'the Paganini of the double bass', revolutionised attitudes to the instrument, becoming one of the world's first touring musicians alongside his constant companion, a 1716 Carlo Antonio Testore. Among the technical innovations outlined in his 1869 treatise were his use of thumb position, harmonics and the 'Bottesini' bow. Yet he saw himself primarily as a composer, and his extensive catalogue – including works not only for bass, but also operas, sinfonias, a requiem and a ballet – remains largely forgotten. Stephen Street explores his remarkable legacy on page 36.
From early ground-breakers to modern-day innovators: on page 42 Tom Stewart speaks to South African-born cellist Abel Selaocoe, whose genre-defying performances – combining his classical training with the musical influences of his youth – have earned him a recording contract with Warner Classics. As much a singer and composer as he is an instrumentalist, Selaocoe is redefining the role of performer for a new generation of artists, as evidenced by his charismatic performance at the 2021 BBC Proms.
Charlotte Smith editor
Email me at thestrad@thestrad.com or tweet @TheStradMag