The third Oleh Krysa International Violin Competition was the first in its short history to honour Ukrainian musicians with top awards. Tom Stewart reports on an event doing its best to highlight Ukraine's musical pedigree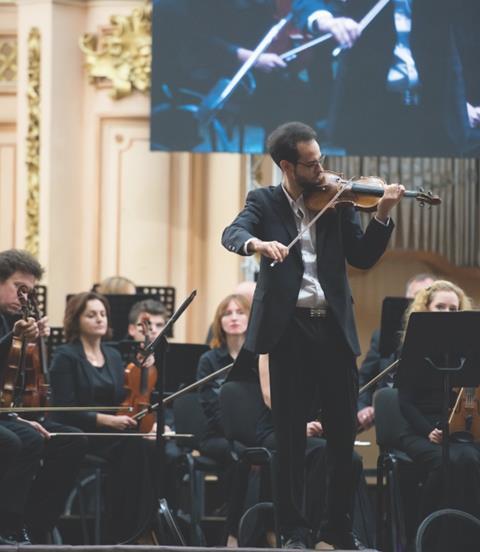 Jevgēnijs Čepoveckis was awarded first prize for his intensity and consistency
Although the line that separates Ukraine culturally, geographically and politically from its larger neighbour is not always easy to trace, it may come as a surprise (it did to me) that many titans of the 'Russian' school of violin playing – Nathan Milstein, David Oistrakh and Leonid Kogan among them – were born in what we know today as Ukraine. Oleh Krysa is another Ukrainian violinist, and one determined to see his country's cultural achievements given the credit they deserve. A student of Oistrakh, Krysa has taught at the Eastman School of Music in Rochester, NY, since 1989 and gives his name to the triennial Oleh Krysa International Violin Competition, which began in 2013. He also chairs its jury. In October I travelled to Lviv, close to Ukraine's border with Poland, to meet him and to hear the six finalists perform in the 2019 edition.
'All the important Soviet artists passed through here on their way to the West,' he says of the city where he spent his formative years. 'Coming in the opposite direction was Arthur Rubinstein, and before him Chopin and Sarasate. Lviv has always been at the intersection of two different worlds.' The genteel city's cobbled streets are a world away from Donbas, Ukraine's easternmost region, where since 2014 as many as 13,000 people have been killed in armed conflict between Russian and Ukrainian nationalists. 'People are dying every day,' says Krysa, 'but it doesn't mean that we should stop making music – we have to play on. I wanted to give young Ukrainian violinists a chance to demonstrate their talents in their home country, and to give everyone else a chance to hear what they could do.'
For their chance to win the €20,000 first prize, the six young violinists, accompanied by the Lviv National Philharmonic Symphony Orchestra, played one from a choice of seven concertos drawn from the likes of Beethoven, Brahms and Prokofiev and one compulsory work: Ukrainian composer Yevhen Stankovych's Violin Concerto no.5 'Question without Answer'. Written in 2017 to celebrate Krysa's 75th birthday, Stankovych's concerto is cast in a single rhapsodic movement with a striking gear-shift towards the end. Its long, unpredictable melodies alternate with highly wrought orchestral interludes before the warm buzz of a vibraphone leads the soloist into a tango of the sort that – according to Krysa – Stankovych (b.1942) imagines might have been heard in one of Lviv's bustling coffee houses before the city was occupied in World War II.
The challenge in this piece is not so much the notes themselves, but spinning them into lines that have drive and direction – qualities not always explicit in Stankovych's score. All six soloists gave a technically polished account, but not every rendition caught the story and clung on to it until the end. Yukiko Uno (b.1995), from Japan, played with a beautiful tone and crystal-clear articulation, for instance, but she seemed lost amid the off-kilter contours and strange pacing of material. In the tango, the score at last offers the soloist a helping hand, but Uno was unable to put it to imaginative use and bring something extra to the work's campy send-up of café culture. She put her balance and poise to better effect in the Sibelius Concerto, perhaps simply because it has a more dramatic solo part. But although she was now in more familiar territory, she still struggled to fire up her playing in a cut-glass account of the finale that showed off her coolness and precision.
Dmytro Udovychenko took third prize for his deeply passionate playing
In contrast, Jevgēnijs Čepoveckis (b.1995), from Latvia, built a sense of drive and conviction from the first bar of Stankovych's elusive work. It was quickly stripped back in the tango, with a playful naivety that grew in swagger and style as the work curled towards its conclusion. Next came Shostakovich's Violin Concerto no.1, which Čepoveckis played with a roughness unique among the finalists. In some ways, an effective interpretation of this piece requires the same firm hand as the Stankovych, and this soloist was in complete control of both. By turns obstinate and fleet-footed, Čepoveckis's playing didn't always sit comfortably in the texture, instead burning slightly against it.
The first of two Ukrainian finalists, Dmytro Udovychenko (b.1999) cut an unassuming figure on stage that belied his deeply passionate playing. After an account of the Stankovych that exaggerated its twists and turns, he gave a performance of the Sibelius Concerto that marked him out, to my ear at least, as a clear front-runner. Throughout, his clean and springy shifting brought a characterful elasticity to his sound, and after a heart-stopping slow movement, his athleticism in the finale was almost breathtaking.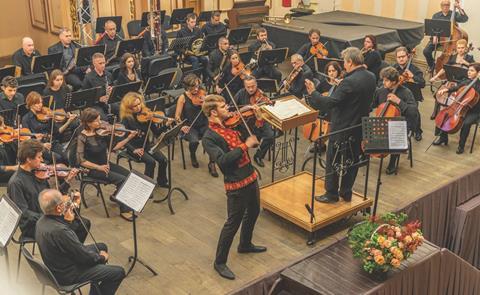 Second-prize winnner Kostiantyn Lukyniuk was elegantly quizzical in the set work
Fellow Ukrainian Kostiantyn Lukyniuk (b.1999) began with an unrestrained performance of the Brahms Concerto that saw him drop his bow – and recover quickly – shortly after his first entry. There were exciting moments, but his intonation was not always secure, and in quieter passages especially I felt he was holding back as a result, with the solo line coming in and out of focus rather than tracing a clear thread. This abstraction worked well, though, in what was perhaps the most elegantly quizzical performance of Stankovych's 'Question without Answer'. Lukyniuk studies in the US with Krysa, and was the only student of a jury member to make it to the final.
Japanese violinist Daichi Nakamura (b.1990) gave the opening lines of the Stankovych a more self-consciously romantic treatment and, like Čepoveckis, managed a tongue-in-cheek shift in tone into the tango. He too played the Shostakovich First Concerto, following an almost gothic treatment of the opening threnody with a scherzo and finale that, while glossy and technically assured, did not allow the music's humanity to break through the glittery black surface.
Whereas Udovychenko's stillness on stage gave way to a performance of often startling intensity, Dutch violinist Hawijch Anna Elia Elders (b.1998) did not appear to relax into either the Stankovych or the first two movements of the Tchaikovsky Concerto that followed it. In the final movement, however, pent-up energy seemed to course through the heel of her bow, which dug into the string to draw out a fiery sound that blew away any memories of a few small technical blips in the compulsory work.
In the end, it was Čepoveckis who took first prize. The intensity and consistency of his playing had clearly impressed the jury, who awarded the €10,000 second prize to Lukyniuk and third prize, worth €8,000, to Udovychenko. The order here surprised me, as did the fact that Nakamura scored lowest of the runners-up. Although all six performances were highly accomplished, there was perhaps a slight dearth of truly amazing moments and choosing a winner cannot have been easy. Lukyniuk and Udovychenko, meanwhile, were the first Ukrainians in the short history of the competition to take home prizes – Krysa's plan appears to be working.
All photos © Oleh Krysa International Violin Competition
This article was published in the February 2020 Ébène Quartet issue

The Ébène Quartet marks its 20th anniversary with a worldwide Beethoven tour and live recordings, and talks about the challenge of finding a new violist. Explore all the articles in this issue.

More from this issue…