The Strad's editor Charlotte Smith introduces the April 2021 issue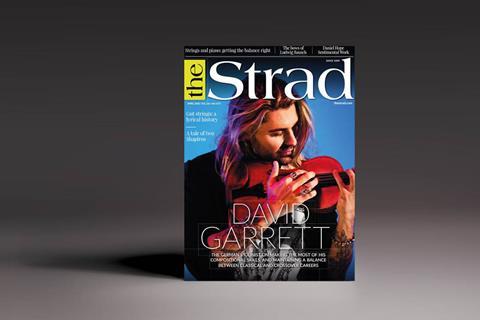 Most musicians experience periods of self-doubt. But it can be comforting to realise that even a player as talented and successful as David Garrett has at times been susceptible to such insecurities. At 13, the German violinist was the youngest ever artist to sign to Deutsche Grammophon. Yet, as Garrett tells me on page 24, a lack of confidence almost toppled his career in his late teens. What he needed was a broader education, and a sense of control over his musical destiny – and the remedy was to enrol as an undergraduate at The Juilliard School. Four years under the guidance of Itzhak Perlman, plus the opportunity to collaborate with students from all areas of the arts, paved the way for a very different career. Nowadays Garrett is an immensely popular crossover star, but his love for classical music remains – an appreciation that might have faded had he been denied the chance to explore other avenues.
As a musician Garrett takes great satisfaction from arranging popular songs for classical instruments, and especially in achieving the right balance between his solo violin and accompanying band and orchestra. On page 52 Pauline Harding speaks to string players and pianists about their chamber collaborations, and the importance of developing a nuanced blend of sound. The subject encompasses far more than the need to hear all instruments clearly, requiring, in addition, an understanding of musical texture, timbre and articulation.
The hand manufacture of gut strings in 19th-century Germany might appear to lack subtlety and refinement – particularly in the context of August Wilhelm Jäger's 1877 song, commissioned by the town of Markneukirchen to celebrate the process, with its references to 'sliming' and 'ripping a gut in two'. However, as Kai Köpp's article demonstrates, the procedure was in fact a highly delicate one, and more than worthy of lyrical recognition. On page 40 you'll find a rundown of the method and the song in full – both in German, and in English translation for the first time by our own Christian Lloyd.
Charlotte Smith editor
Email me at thestrad@thestrad.com or tweet @TheStradMag