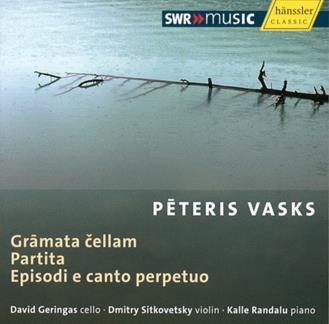 THE STRAD RECOMMENDS
The Strad Issue: January 2008
Musicians: Dmitry Sitkovetsky (violin) David Geringas (cello) Kalle Randalu (piano)
Composer: Peteris Vasks
Lithuanian-born Rostropovich pupil David Geringas has been closely associated with the Latvian composer P?teris Vasks since the latter dedicated his 1993–4 Cello Concerto to him. Here Geringas has put together three of Vasks's most significant chamber works of the 70s and 80s, decades in which the composer, who trained as a bassist, discovered his love of the cello. The cello it is that opens the disc, in the powerful Gr?mata cellam, or 'Book for Cello Solo' (1978). 'I make use of everything you can get out of the instrument,' writes Vasks. He certainly does, and Geringas meets all its technical challenges head-on in. There are some extraordinary effects in this extreme work, especially the sul ponticello tremolo shimmerings at the start of the Dolcissimo movement, sounding for all the world as if a violin is playing the higher line, and the chromatically rising double-stops, shooting rapidly up the fingerboard. The close, high-quality recording exposes every note to the full, but Geringas has nothing to hide.
The piano is next to be allowed in, in the Partita (1974), where the military rhythms that flitted into the Gr?mata cellam become more insistent. Geringas and Kalle Randalu generate the pent-up tension of the Toccata and its percussive rhythms most effectively.
For Vasks's 1985 piano trio Episodi e canto perpetuo, the two artists are joined by Dmitry Sitkovetsky, whose exquisitely held high E opens the 'Canto perpetuo', the expressive and calm centre of the otherwise stormy work. When the violin line is taken over seamlessly by the cello, its slow, controlled melody over piano chords unmistakeably calls to mind the fifth movement of the Quartet for the End of Time by Messiaen, the trio's dedicatee.
JANET BANKS