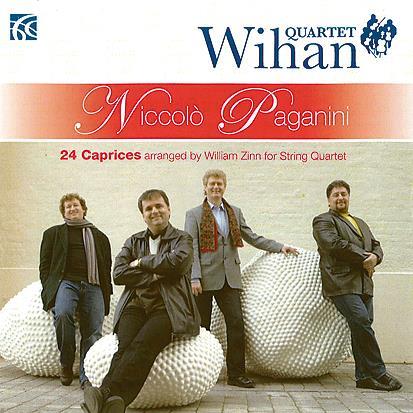 The Strad Issue: January 2010
Musicians: Wihan Quartet
Composer: Paganini
William Zinn's arrangements transform Paganini's solo violin caprices into string quartets with fascinating, yet questionable outcomes; for Zinn has freely added his own material, whether as introductory bars (for no.24), harmonic, registral or articulation changes, ornamental elaborations, or harmonic and pizzicato effects.The members of the Wihan Quartet are persuasive advocates of Zinn's versions, which share out the virtuosity between all four instruments but inevitably give the principal bravura role to the leader. Leoš ?epický meets most of these technical challenges head-on, as in nos.1, 13 and 20, but he seems ill at ease, for example, in nos.5, 11 and 12. Indeed, one wonders how well some of these arrangements would work 'live' in the concert hall as opposed to the recording studio. Nevertheless, nos.3, 4, 10, 11, 18, 19 and 20 are particularly effective in these accounts, which showcase some remarkable string quartet playing and present an unusual, yet powerful perspective on Paganini's opus.
The close recording is set in a reverberant acoustic. Although Zinn's arrangements give greater emphasis to the musical content and detail of Paganini's caprices, they are no substitute, in terms of impact and fantasy, for witnessing a solo violinist tackling these works' striking technical and musical challenges.
ROBIN STOWELL