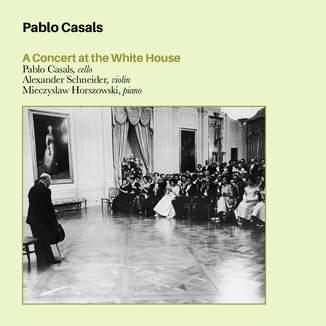 The Strad Issue: November 2015
Description: Casals, late in life, with illustrious friends playing for the Kennedys
Musicians: Pablo Casals (cello) Alexander Schneider, Jacques Thibaud (violin) Mieczyslaw Horszowski, Alfred Cortot (piano)
Composer: Casals, F. Couperin, Haydn, Mendelssohn, Schumann
This is the famous concert at the White House on 13 November 1961, when Pablo Casals and friends played for President Kennedy and his guests. Having previously avoided it, I have enjoyed it, but I doubt I shall listen to it again.
We first hear the almost 85-year-old Casals in the Mendelssohn, where Horszowski, a mere stripling at 69, is the hero, playing delightfully throughout. Alexander Schneider fiddles splendidly. Casals groans a lot but is well in the picture – and in tune – although his tone is far from what it had been. The Couperin Suite confirms that the cellist, despite a few hesitant bow strokes, is still a great musician. In the Schumann he has to take the Allegro sedately. His encore, Song of the Birds, is less moving than the Prades recording with orchestra. The sound is excellent.
As a 'bonus', a so-so transfer of the 1926 Haydn recording with Cortot and Thibaud – made in London, not Paris as alleged – shows what the Casals tone used to be. He hijacks the violin line at one point in the Poco adagio. This 'Gypsy Rondo' is still unequalled. Thibaud's name is misspelt, and Casals did not play for President McKinley in 1898, only for Theodore Roosevelt in 1904.
TULLY POTTER