Audition applications are now open until 9 March 2022, with the chance to be selected for career management including a new partnership with Concerts Guild New York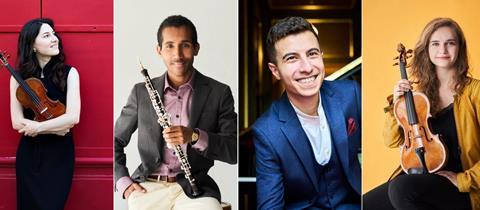 Young Classical Artists Trust (YCAT) invite auditions for outstanding young musicians to join its 2022 management roster.
Selected applicants will enjoy 3-5 years of developmental and holistic management, worldwide performance engagements, including a joint partnership with Concert Artists Guild in the US, as well as extensive professional development. This includes marketing to numerous promotors and international concert halls, as well as branding, digital and media support in the form of press kits and consultation of online presence.
Instrumental applicants must be under 28 years of age, while ensembles must be an average age of 30 from 19 May 2022. Applicants must have completed or are in the process of completing a recognised course of study for their instrument.
Current YCAT string artists include violinists Irène Duval, Charlotte Saluste-Bridoux, Randall Goosby, Geneva Lewis; violist Jordan Bak, cellists Jamal Aliyev, Maciej Kułakowski and Gabriel Martins; as well as Quatuor Agate, Adelphi Quartet and Balourdet Quartet.
More information on the application process can be found here