Hahn will begin her two-year tenure in September 2021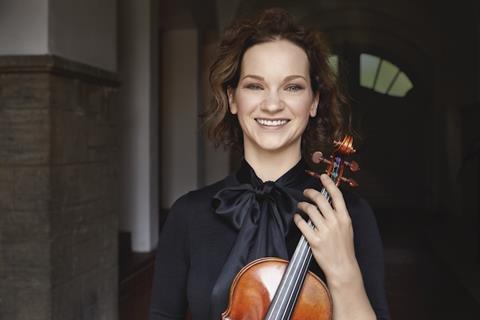 The Chicago Symphony Orchestra has announced violinist Hilary Hahn as its inaugural artist in residence. Appointed by music director Riccardo Muti, Hahn will begin her tenure in September 2021 and continue for two seasons until June 2023.
Hahn will appear in Chicago multiple times throughout her residency, including in a performance of the Dvořák Violin Concerto in December 2021, a piece which was premiered in the US by the CSO itself in 1891.
The coming season also sees her host two of her signature 'Bring Your Own Baby' concerts. These free events will continue the CSO's ongoing commitment to families with young children by providing a welcoming environment for new parents to share live classical music with their infants.
Watch: Violinist Hilary Hahn performs music for babies
Watch: Hilary Hahn plays Dvorák's Violin Concerto in a 'concert without public'
Hahn plans to use new her role to strengthen the CSO's connections with the wider Chicago community, to help diversify artistic voices and broaden access to classical music.
'Through the powerful conduit of the arts, a residency offers the chance to get to know a community and find ways to be helpful within it,' said Hahn. 'I'm looking forward to exploring those connections and being of artistic service to the city of Chicago and its music lovers, and to making great music with the Chicago Symphony.'