The Brussels-based luthiers are the inaugural winners of the annual prize from a consortium of wine makers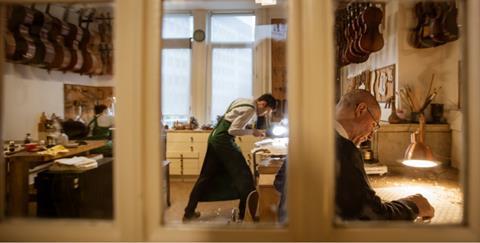 Belgian violin makers Maison Bernard have been awarded the inaugural Primum Familiae Vini (PFV) Prize. Worth €100,000, the award will be made annually to family-run firms internationally, in any area of enterprise, that demonstrates 'excellence in sustainability, innovation, craftsmanship and the successful transmission of responsibility and commitment from one generation to the next'.
Maison Bernard has been a family-run buiness since 1868. Currently managed by father and son Jan and Matthijs Strick, it has been based in Brussels since 1986 and claims to be the oldest violin workshop in Europe. Jan Strick is an appointed expert to the Prosecutor's Office in Brussels, and says the prize money will go towards the publication of his forthcoming book on the Flemish school of violin making in the 17th and 18th centuries. It will also finance Matthijs's travel to Chicago to gain experience at a violin shop there.
Read: Lutherie Dynasties: a family affair (subscription required)
Read: Violin workshop opens in Brussels music museum
Read: Luthiers sans Frontieres UK heads to Malawi
PFV is an association of twelve historic European families who produce wine in the continent's greatest wine regions. Five finalists were announced in January: as well as Maison Bernard, they included a maker of walking sticks in the Basque region; a maker of kiln-fired pottery in Kagoshima, Japan; a producer of gold leaf in Florence, Italy; and a luxury hotel in London, UK. A jury formed of one member of each of PFV's twelve wine making families made this year's selection.
'We in the PFV believe that family companies are the bedrock of regional and national economies,' said PFV president Marc Perrin. 'The best family enterprises have a profound commitment to sustainable development and to the environment. Family companies should personify the best values of social responsibility and the kinder human face of free enterprise at a time when globalisation and a rather depressing uniformity have become increasingly prevalent. By announcing this prize at a time of international crisis resulting from Covid-19, we emphasise the long-term thinking of family companies and our inherent optimism about the future providing we defend the right values.'
Photo: Joris Ceuppens