The violin can be heard on a new disc featuring popular songs from the Great War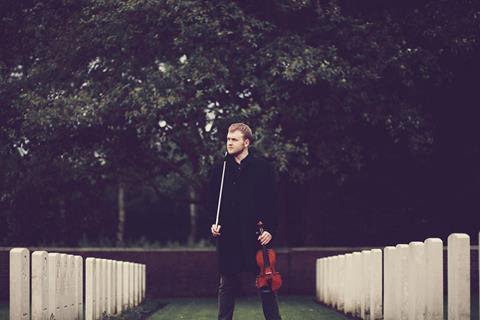 A new album of folk songs has just been released, featuring the sound of a violin made by a soldier who died in World War One.
The soldier, Richard S. Howard, from Harehills, started making the violin in 1915. He, however, never finished it, as he joined the army in 1916 and died the following year, on the first day of the Battle of Messines in Belgium.
In 1993, Roger Claridge, an Oxford-based violin repairer, bought the violin parts at an auction. Ten years ago he assembled them and sold the completed instrument to the folk musician Sam Sweeney, who paid around £2,500 for it.
On returning home, Sweeney found Howard's signature inside the violin's body. Further research revealed when and where the soldier had died, the location of his grave and even details of his granddaughter Mary Sterry, who was unaware of her grandfather's story.
Sterry, 74, from Hampshire, told the Yorkshire Evening Post: 'All I knew about my grandfather was that he had died in the First World War. I knew nothing about what he did – I didn't even know his first name.' She continued, 'I grew up in the 1950s and at that time the older generation didn't really like to talk about anything in the past – that was the way it was and you just accepted it.'

Last year, Sterry and other relatives gathered at Private Howard's graveside in Ypres, and Sweeney played the violin on the eve of the 100th anniversary of the soldier's death.
Now Sweeney has used the violin to record songs that were popular around the time of the Great War, including The Rising of the Lark, The Girl I Left Behind Me and The Wellesley.