Luthier Jacob Brillhart is live-streaming the building of a $10k violin for 'Musician Aid'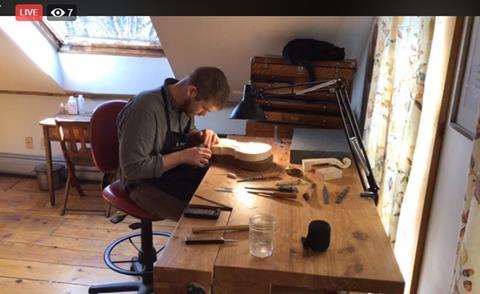 In response to the Covid-19 crisis and the plight of US musicians suffering cancellations, luthier Jacob Brillhart has launched a fundraising project to make a violin and live-stream the process every step of the way. The instrument, with a market value of $10,000, will be given away in an online raffle, along with a $5,000 bow to be made by archetiers Eben Bodach-Turner and Evan Orman. Tickets for the raffle cost $20, and organisers say the project has already raised over $13,000. The violin also comes with a case.
In order to respond to the immediacy of the situation, Brillhart is making the violin twice as fast as he normally would. The violin is being built on a Guarneri model, while the bow is based on a Pajeot. 'There is an inherent wildness in each of Guarneri's violins, a quickness to his movements that is made apparent in the tool marks left behind making each Guarneri a unique product of the moment he was working,' said Brillhart. 'There is therefore no better violin to make: the crisis we now face is so similar to the circumstances Guarneri battled personally throughout his daily life.'
Click here to watch Brillhart at work, and here to visit his fundraising page. Musicians in the US who wish to apply for a $250 aid package can find an application form here.