Dutch violist's research on Bach's use of the five-string shoulder held instrument in the Cello Suites and Cantatas played crucial role in its revival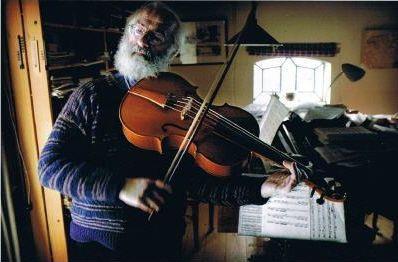 Lambert Smit, who has died at the age of 81, was viola player from the Netherlands whose retirement project of researching the use of the viola da spalla/violoncello piccolo in the work of Bach proved decisive in its take-up by the period instrument community.
Lambert Petrus Wilhemina Smit was born on 31 May 1936 in Amsterdam and took his first steps into music on the violin and mandolin.
He married Gonnie Smit-Arentz, a recorder and viola da gamba player, in 1969.
Although Smit studied Classical Languages at the Univeristy of Amsterdam and went on to become a teacher of Latin and Greek at the Heymans College in Groningen, he kept up his involvement in music through concerts organised with his wife at their home.
Aged 45, he decided to focus on music and began studying the viola at the conservatory of Groningen with Wim ten Have. After a career as a professional violist he began researching the instruments Bach was writing for in the Cello Suites and Cantatas. Examining sources and extrapolating from the scores to work out the size and tunings of instruments variously described as violoncello, violoncello piccolo, violoncello da spalla, violone, viola pomposa and viola da spalla, he paved the way for the broader adoption in period-instrument ensembles of a shoulder held, five-string instrument.
'Although Sigiswald Kuijken and Dimitry Badiarov with La Petite Bande made the instrument really popular again, it wouldn't have happened without the great research, effort and money that Lambert put into the subject,' said Chaim Achttienribbe, an Amsterdam-based luthier from whom Smit commissioned a viola da spalla for his own use.
Lambert Smit died on 5 November 2017.
Watch: Sergey Malov performs Bach's Sixth Cello Suite on a violoncello da spalla