The music hub, set up specifically to help newly-settled Ukrainian children in the UK with music lessons, is in need of more supplies and services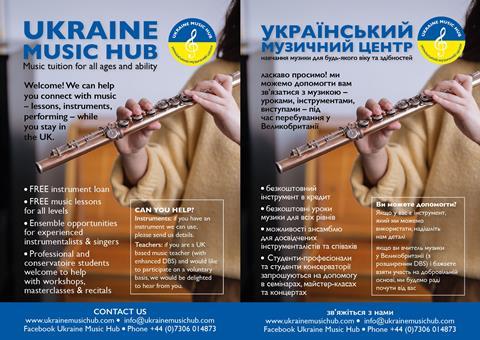 A group of London-based musicians and teachers have established the Ukraine Music Hub. The hub aims to provide a centralised point for Ukrainian musicians now living in the UK find to music tuition, instruments and spaces to take lessons and practise, all to be offered on a voluntary basis.
Its objective is to build a UK-wide database of teachers, instruments and facilities through which connections to families and individuals in need can be made easily and quickly. It hopes to make connections initially to support individual music lessons with the aim to also offer group music making opportunities in order to build a feeling of community and connection between the musicians currently living in the UK.
Music teachers, instruments and facilities are urgently needed across the UK, all of which can be offered on a voluntary basis to support this project.
Any musician or instrumental teacher with an Enhanced DBS can register to offer teaching hours on a voluntary basis, across the UK.
The hub is asking anyone with instruments which they can loan or donate to get in touch and register directly.
Several schools across the country have already committed to offering spaces for lessons. Other schools and community spaces in London and across the UK have been encouraged to register their support by the project, in order to establish a broad network of facilities so that the service can accommodate the demand.
Musicians of all ages and abilities from Ukraine can register via their website: www.ukrainemusichub.com. Musicians can make their requests directly to the hub through the website.
Instruments of educational level and beyond are needed to help to support musicians across a range of playing levels, including those working at conservatoire level and beyond. Facilities and spaces for individual lessons, group lessons and practice are also required.
Anyone able to offer school facilities, a church, community centre, or space in a private home for this purpose is urged to register on the website. Insurance and repairs for these instruments may also be required, so repairers or instrument insurers are also invited to get in touch.
All offers and requests can be registered directly on www.ukrainemusichub.com. The organisers can be contacted on: info@ukrainemusichub.com or 07306 014 873, or by following Ukraine Music Hub on Facebook.