Ray Chen discusses the importance of social media and popular culture in encouraging a new generation of players
The Strad May 2018 issue is out now, in which we talk to Ray Chen about his feats, failures and the digital revolution that has turned him into a violinist of a new generation.
In the first of a two-part article on what is now the most expensive violin in the world, Terry Borman examines the belly and back of the 'Vieuxtemps' Guarneri 'Del Gesù'; and Yann Poulain argues that the presence of a ventral pin in so many old Italian instrument backs may be the key to understanding their makers' methods.
Laurence Lesser explains how the lute version of Bach's Fifth Cello Suite informed his own interpretation of the work; and we observe Alfred Brendel giving a Beethoven masterclass to two young quartets, the Hieronymus and Marmen.
In our regular sections:
In Focus features a c.1798 violin by Matthew Hardie; Stacey Styles explains her method for maintaining a cello top arch in Trade Secrets; My Space features the workshop of Melbourne bass luthier Benedict Puglisi; and in Making Matters, Gregg Alf pens an open letter to Jean-Baptiste Vuillaume.
In our monthly Masterclass, Jian Wang gives his thoughts on the second and third movements of Brahms's Cello Sonata no.2; Gwen Thompson-Robinow on flexibility in the left-hand thumb for violinists in Technique; US violinist Leila Josefowicz tells us her Life Lessons; plus Raphael Wallfisch reveals why he champions Finzi's Cello Concerto in Sentimental Work.
We also bring you news of the latest competitions, products and auctions, and comprehensive reviews of concerts, CDs and books.
The digital magazine and print edition are on sale now.
Do YOU have something to say about the new issue – or about the strings world generally? For your chance to win a bundle of premium accessories, send letters to the editor at thestrad@thestrad.com.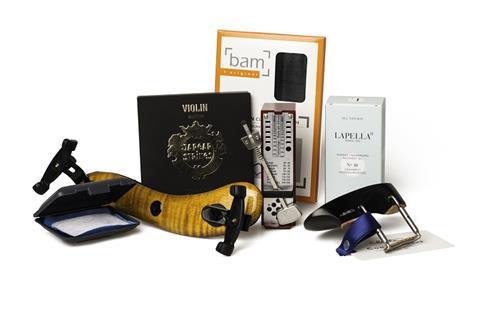 Letter of the Month wins:
Stretto Humidifier
VLM-Augustin Diamond Shoulder Rest (violin or viola)
Wittner Super Mini Taktell Metronome
Jargar Superior String set (violin, viola or cello)
BAM Cleaning Cloth
Götz New Flesch Chinrest with titanium screws (violin or viola)
Lapella Fingerboard Oil