14-year-old Bethany will now receive a year's worth of lessons and a brand-new cello through the charity Make-A-Wish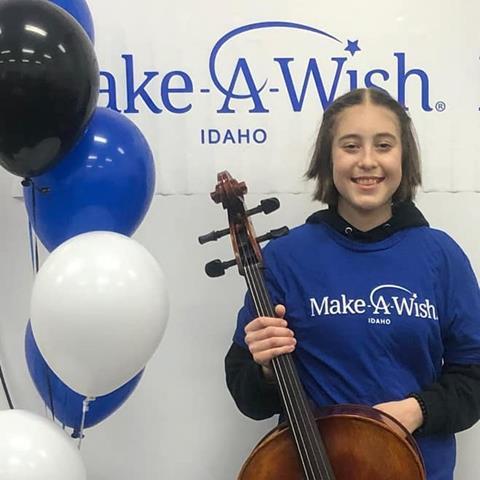 Read more news articles here
Bethany, a 14-year-old from Blackfoot, Idaho has been granted her wish to receive a cello and one year's worth of lessons through the charity Make-A-Wish. It is Bethany's hope that these lessons will provide her with something positive to focus on while she is undergoing treatment.
Diagnosed in March 2022 with leukaemia, a type of cancer which affects the production and function of blood cells, Bethany will undergo two years of chemotherapy and treatment. Her mother Shelley said that the cello has 'brought Bethany hope for a brighter future'.
The Make-A-Wish foundation was founded in 1980 in the United States to help children between the ages of 2 and 18 with life-threatening or life-altering illnesses fulfil their wish. Since its inception the foundation has spread to 38 countries and has granted over 500,000 wishes globally.
Bethany's wish was made possible through donations from Bristol Myers Squibb, an American multinational pharmaceutical company. Bristol Myers Squibb has donated $5 million in collaboration with Make-A-Wish enabling 75 wishes, including Bethany's this year.
'A wish can be a turning point in the treatment and recovery of children with critical illnesses, and a much-needed source of hope and joy for their entire family,' said Janie Best President and CEO of Make-A-Wish Idaho.
'We are grateful for the relationship with Bristol Myers Squibb that understands the impact a diagnosis can have on families. Their support helps us continue to empower children to reclaim their childhood through the power of a wish.'
Alongside her cello lessons, Bethany plays the piano, violin and ukulele. She also composes music on her computer and sings in the choir. Her school orchestra and the music teachers have played a large part in Bethany's life.