16 semi-finalists will advance to the next round of the competition with a chance of winning prizes valued at over $350,000

Read more news articles here
The International Violin Competition of Indianapolis (IVCI) has announced 16 of the 39 violinists progressing through to the semi-finals taking place on Friday 16 at 1:30pm EDT.
In alphabetical order the semi-finalists are:
- Joshua Brown (United States), 22
- I-hao Cheng (Taiwan), 23
- Isabelle Durrenberger (United States), 23
- KayCee Galano (Philippines), 21
- Sirena Huang (United States), 28
- Anna Im (South Korea), 24
- Yiliang Jiang (China), 26
- Haram Kim (South Korea), 24
- SooBeen Lee (South Korea), 21
- Yoojin Lee (South Korea), 23
- Nathan Meltzer (United States), 22
- Audrey Park (United States), 19
- Julian Rhee (United States), 22
- Claire Wells (United States), 21
- Victoria Wong (Australia), 24
- Minami Yoshida (Japan), 24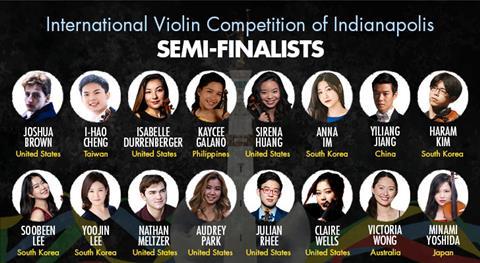 The semi-final will last three days from Friday 16 to Monday 19 September with each day split into two sessions. Each of the 16 participants will present a full recital showcasing 19th and 20th century works from the standard violin repertoire. This will also include a world premiere of a commissioned work by American composer John Harbison.
After the semi-finals, six finalists would be chosen to perform in a four-day final where participants will perform with the East Coast Chamber Orchestra and the Indianapolis Symphony Orchestra.
The IVCI has a prize fund worth over $350,000 including a loan of a violin from the IVCI collection, including the 'ex-Gingold' 1683 Stradivari violin for four years. Gold, silver and bronze medallists will receive career management and international concert engagements. The gold medallist will also receive a Carnegie Hall recital debut, a recording contract as well as website development and maintenance until the next competition.
The semi-finals will be live streamed at www.violin.org/watch-live.