Competition's rules state that current students of jury members cannot participate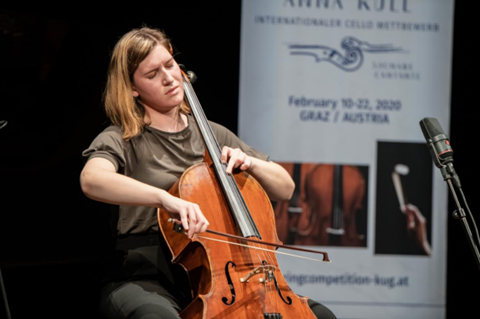 Senior division first prize winner Konstanze Pietschmann Photo ©Thomas Raggam
Konstanze Pietschmann from Germany is the recipient of the senior division (age 18-19 years) first prize at the inaugural Anna Kull International Cello Competition, held at the University of Music and Performing Arts Graz, Austria. Second prize was shared by Britain's Willard Carter and Petar Pejcic from Serbia.
The new competition, which is open to players born between 2000 and 2006, aims to provide competitors with advice and support from its international jury, including approaches to programming. The jury for the 2020 competition comprised Anke Schittenhelm (chair), Julian Arp, Wen-Sinn Yang, David Geringas, Gergely Mohl, Ditta Rohmann, Miloš Mlejnik and Monika Leskovar.
The contest's rules stipulate that current students of jury members are not allowed to participate in the competition. Furthermore, the jury guidelines state: 'If participants were students of jury members within a period of up to two years prior to the competition, or in any other potential case of partiality, the corresponding jury member shall not take part in the evaluation of the candidate in question. In such cases, the jury member is nevertheless requested to hand in a signed, but otherwise blank, evaluation form.'
In the junior division (age 14-15 years), first prize went to Arne Zeller from Germany, and second and third prizes to Austrian Elvis Herndl and Russia's Anna Lugovkina. First prize in the intermediate division (age 16-17 years) went to Ettore Pagano of Italy, with second and third prizes going to Philipp Schupelius from Germany and Artyom Ioanisyan from Armenia.
The competition is named after the Swiss cellist Anna Kull. In addition to coaching sessions with the jury members, the prize winners have the opportunity to perform together with the Graz Philharmonic Orchestra in Austria's second largest opera house, the Oper Graz.