Doctors operated on Dagmar Turner, 53, to remove a tumour without affecting her ability to play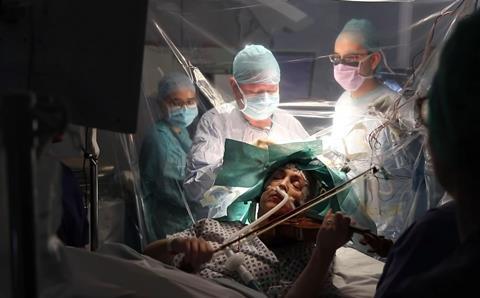 Violinist Dagmar Turner played the violin while surgeons operated on her brain during a complex six-hour operation to remove a tumour from her right frontal lobe. The 53-yer-old, a member of the Isle of Wight Symphony Orchestra, told doctors that she was worried the operation would cause her to lose the ability to play. Consequently the team, led by Professor Keyoumars Ashkan, spent two hours mapping her brain while she played the instrument to understand which parts were responsible for her playing.
Halfway through the surgery, Ms Turner was woken up and asked to play while the doctors continued to operate. She played scales and improvised tunes during the operation, to ensure that crucial areas of the brain controlling her hand movements would be avoided.
'This was the first time I've had a patient play an instrument,' said Ashkan following the treatment. 'We managed to remove over 90 per cent of the tumour, including all the areas suspicious of aggressive activity, while retaining full function in her left hand. It was all those details of the fine control of the left hand – for example, somebody playing the violin – the pressure on the string, all those fast movements moving between one string to another. That was what was unusual for us.'
'The violin is my passion,' said Ms Turner after the operation. I've been playing since I was ten years old. The thought of losing my ability to play was heartbreaking.' She also thanked the surgery team for their care and attention.