On the single, Dagmar Turner plays the violin, accompanied, on the piano, by her brain surgeon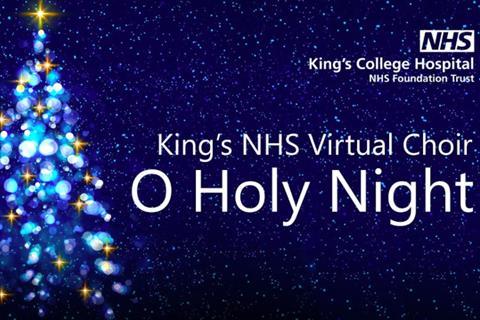 The King's College Hospital NHS Foundation Trust has released a Christmas single of 'O Holy Night' featuring a virtual choir of over 100 staff.
Joining them was the Consultant Neurosurgeon Professor Keyoumars Ashkan and his patient Dagmar Turner - a keen violinist who, in January this year, underwent brain surgery.
During the surgery, Turner, a member of the Isle of Wight Symphony Orchestra, played the violin while surgeons operated on her brain to remove a tumour from her right frontal lobe. The 53-yer-old told doctors that she was worried the operation would cause her to lose the ability to play. Consequently the team, led by Professor Ashkan, spent two hours mapping her brain while she played the instrument to understand which parts were responsible for her playing.
Read: Patient plays violin during brain surgery
Halfway through the surgery, Turner was woken up and asked to play while the doctors continued to operate. She played scales and improvised tunes during the operation, to ensure that crucial areas of the brain controlling her hand movements would be avoided.
On this track from King's College Hospital NHS Foundation Trust, Turner played the violin while Professor Ashkan provided piano accompaniment.
The song is dedicated to everyone who supported King's hospitals through this most year, and to those who passed away.
It is available to stream on Amazon Music, iTunes, Spotify, and more, and the video can be viewed below.