Italian violinist Francesca Dego records on the composer's 'Il Cannone' violin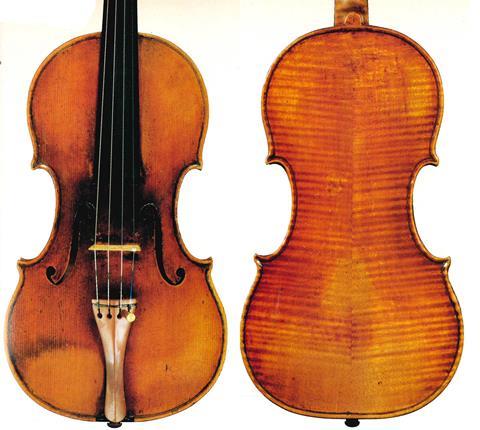 Paganini's favourite: the 1743 'Cannon' Guarneri 'del Gesù' violin
One of the world's most valuable and elusive violins, Paganini's 1743 'Cannon' Guarneri 'del Gesù', has come out of semi-retirement from its place of residence in the Sala Paganiniana inside Genova's Palazzo Tursi for a new recording featuring music inspired by the composer.
Italian violinist Francesca Dego was granted permission by the City of Genoa to use the instrument, and made the recording at the Palazzo Tursi to avoid the need for an armed police escort, which is required when the violin travels. It has been loaned out by the city only a few times, most recently in May when it went on display at the Columbus Museum of Art in Columbus, Ohio.
The new CD will feature repertoire ranging from Paganini's good friend Rossini's 'Un mot a Paganini' to 20th-century and contemporary music including a piece she has commissioned from the Italian composer Carlo Boccadoro and a new version of Paganini's Cantabile.
'I laughed, cried and jumped up and down,' Dego said of her first experience playing the 'Cannon'. 'Spending my first three hours of many with Paganini's very own Del Gesù violin was nothing less than overwhelming. This instrument is magic, it's wise, it's exciting, it's legendary. It truly is enchanted.'
In addition to the recording, the violinist also performed on the 'Cannon' at the Teatro Carlo Felice, in Paganini's Concerto no.1 on 27 October - Paganini's birthday.
The 'Cannon', known to be the 18th-century composer's favourite violin on which he developed new violin techniques (its name, 'Il Cannone' (the cannon) refers to its power and projection), has featured on only three or four recordings in the past, and always of Paganini's music.
After being given a modern set-up in the 1960s the 'Cannon' was in regular use, but its loan has been scaled back in recent years. While recordings on the instrument are rare, it receives more frequent outings in concerts, including by winners of the International Violin Competition 'Premio Paganini'. In 2004 the violin underwent conservation work by Bruce Carlson, violin maker and conservator for the City of Genoa's collection of historic violins. The 'Cannon' is thought to have been donated to Paganini in 1802, and the composer bequeathed it to the City of Genova, his birth town, in 1851 with the instruction that it was to be 'preserved for eternity'.