The violinist was 81 years old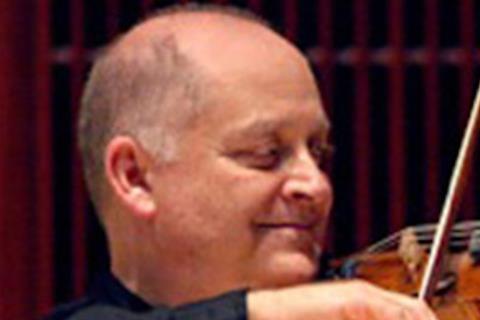 Kenneth Goldsmith, Professor of Violin at Rice University's Shepherd School in Houston, Texas since 1991, has died. He was 81.
Trained by Mischa Mischakoff, Toscanini's concertmaster of the NBC Symphony Orchestra, Goldsmith began his orchestral career at the age of 19 in 1958, when he became the youngest member of the Detroit Symphony Orchestra - then under the baton of Paul Paray. He went on to serve as concertmaster for several American symphony orchestras, including the Nashville Symphony, where he formed an integrated string quartet, one of the first of its kind in the USA. In addition to Mischakoff, principal teachers and major influences included William Kroll, Pablo Casals, and Nathan Milstein.
Passionate about new music, he formed the Group for Contemporary Music at Columbia University, and, as a member of the Mirecourt Trio, commissioned and premiered more than 80 new works, honing his expertise in 20th century techniques with guidance from Carlos Chavez, Gunther Schuller, Yannis Xenakis, Witold Lutoslawski, and Claus Adam. He also played with several other chamber groups including the Fromm Foundation Quartet, the American Arts Quartet, the Camerata Quartet, the Nashville String Quartet (Blair Quartet), the Claremont Festival Quartet, the Lyric Art Quartet, the Stanford Chamber Players, the Da Camera Society, and CONTEXT.
Goldsmith also had a keen interest in historical performance, studying early music at Stanford, and playing chamber music on gut-strung violins throughout his life. He taught several American baroque violinists, including Anthony Martin (Philharmonia Baroque/Orchestra of the 18th Century/New Esterhazy Quartet), Alana Youssefian (soloist), Zachary Carretin (Music Director of Boulder Bach Festival) and Jude Ziliak (Sonnambula/American Bach Soloists/teacher). He also conducted much archival research on Classical composers; his work on Giuseppe Antonio Capuzzi led to a CD of world-premiere recordings of the Italian composer's chamber works, played on period instruments.
But it is perhaps as a teacher that he will be primarily remembered. His teaching career began in 1964 at the new Blair Academy of Music (now the Blair School of Music at Vanderbilt University) in Nashville. He later went on to serve on the faculties of Stanford University (1966-71), California State University, Fullerton (1971-75), Pomona College (1974-75), California State University, Irvine (1974-75), Grinnell College (1975-87), University of Houston (1987-1991), and since 1991, the Shepherd School of Music at Rice University. His students can now be found in major symphonic orchestras, opera and ballet orchestras, in period music ensembles, and serving on the faculties of colleges and universities throughout the US.
Valued for his detailed insights, when the Rolston Quartet sent him their recording of the first Tchaikovsky quartet and Souvenir de Florence with Gary Hoffman and Miguel da Silva last January, Goldsmith responded, 'You have looked deeply into the soul of Chaikovskii and Russian music of the late romantics, and you have discovered a treasure trove of vigour, tenderness, elegance, and ballet and dance, unparalleled in any other recording! I cannot tell you how proud I am of your technical playing, exquisite musicianship, sense of chamber music, and honourable musical statement! I adore all of these three works and have performed the quartet and sextet often and and with great performers….but we never reached the level of profound understanding, that you play…and with such ease! Perfect intonation, gorgeous sound, thoughtful vibrati and portamenti, and an overall cohesive presentation… which I found thrilling, even after the third time listening! I loved the Hopak and the seamless connecting of the scaler passages, and the lilt you give to the waltz passages, even those subdivisions of the 9/8!'
Reacting to his death, the Rolston Quartet wrote on social media: 'Mister G always inspired us to work hard and to never forget about the joy that music brings. He will always be our musical inspiration, a beautiful human being and most of all, an incredible musician and violinist.'