The ensemble receives CHF25,000, alongside 13 other winners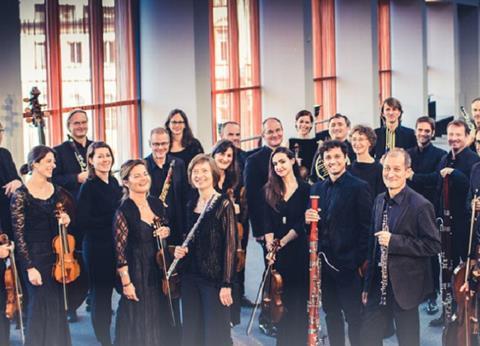 The Kammerochester Basel has won the Swiss Music Prize, becoming the first Swiss orchestra to do so.
It receives CHF25,000, alongside fellow winners: producer and DJ Sebb Bash; jazz drummer and percussionist Pierre Favre; rapper KT Gorique; percussionist, organist and keyboard player Béatrice Graf; the folk music group Ils Fränzlis da Tschlin; composer Michael Jarrett; the pop band Les Reines Prochaines; music producer and composer Bonaventure - Soraya Lutangu; conductor, composer, organist and lecturer Rudolf Lutz; bassist and composer Björn Meyer; dub and electro-acoustic musician d'incise - Laurent Peter; saxophonist Andy Scherrer and multi-instrumentalist Marco Zappa.
The Swiss Grand Award for music 2019 of CHF100,000 went to the musician-architect duo André and Michel Décosterd.
Founded in 1982 as 'Serenata Basel' and renamed in 1999, the Kammerorchester Basel is known for its innovative approach to historically-informed performance. In awarding the prize, the Federal Office of Culture praised the orchestra's 'special vision of creating a classical orchestra beyond the longstanding institutions'; its 'excellent programmes at the highest musical level' and its 'new forms of communication aimed not only at connoisseurs but also at children and amateurs'.
Previous recipients of the Swiss Music Prize include the violinist Patricia Kopatchinskaja - in 2017.