An ice cello, dyed black with food colouring, will be played by a cellist in a wetsuit, as part of this year's Huddersfield Contemporary Music Festival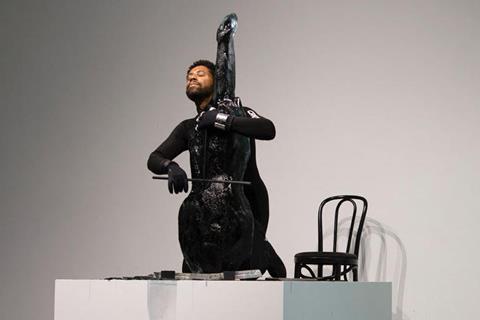 A performance on a cello made entirely of ice features among the highlights of this year's Huddersfield Contemporary Music Festival, taking place from 15-24 November 2019.
The instrument, with embedded microphones to amplify the sound it makes, and dyed black with food colouring, takes five days to freeze. It is currently held in the back of a refrigerated trailer in Huddersfield and will emerge from its casing only 10 minutes before the performance on Saturday, 16 November at 4pm at Bates Mill Blending Shed, Huddersfield.
The performer is the Chicago-based African American cellist Seth Parker Woods, who is known for pushing the boundaries of his instrument. In Britain he has performed at venues ranging from the Tate Modern and the Royal Albert Hall and is one of the founding cellists of the Chineke! Orchestra. Earlier in his career he made a living playing side gigs with Lady Gaga and Sting.
For his performance at Huddersfield, entitled Iced Bodies, he will be dressed in a wetsuit as he plays his obsidian ice cello. Meanwhile his collaborator Spencer Topel will mix and spread the sounds from the ice with the help of seven panes of glass distributed around the large industrial performance space at Bates Mill.
Iced Bodies is a reinvention of, and a tribute to, Ice Music for London, a durational 'happening' created for musical absurdist Charlotte Moorman in the 1970s. Moorman, nude, 'played' a cello-shaped ice sculpture for multiple hours as it melted away during the course of the performance.
With Iced Bodies, Seth Parker Woods has taken Moorman's performance and places it in a new political context. His performance is intended as a meditation on the crisis of police brutality and the marginalisation of the African American community. In a short documentary about Iced Bodies, Woods describes his hope to 'create a sound that speaks to those who have been trapped, and find ways to unearth those voices'.