'I built up to it for months, and I'll never forget it,' says the American violinist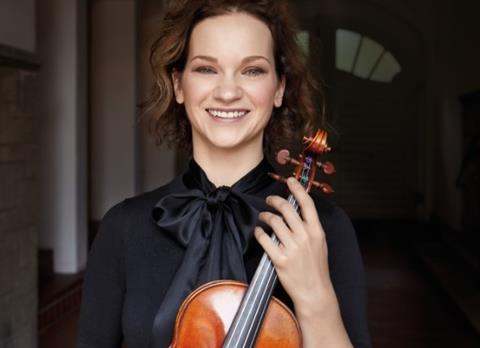 Hilary Hahn Photo © Dana van Leeuwen
US violin soloist Hilary Hahn performed her first full solo recital thirty years ago to the day, when she stepped out on stage at The Peabody Institute of Johns Hopkins University, Baltimore, and performed a programme of Handel, Tommaso Vitali, Bach, Gliere and Vieuxtemps. She was ten years old.
Marking the occasion with a photograph of the recital programme on Twitter today, she said: '30 years ago today, I gave my first full recital. I built up to it for months, and I'll never forget it.'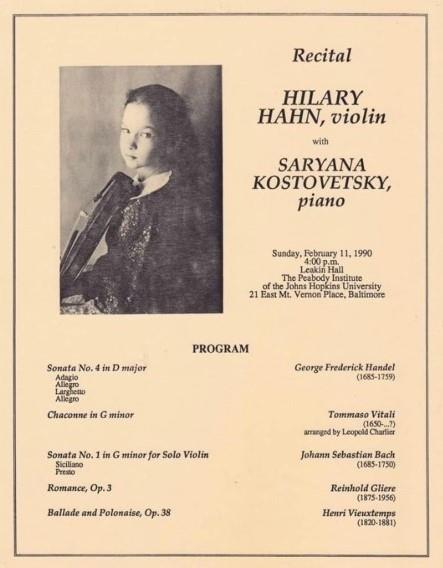 Hilary Hahn's debut solo recital programme from February 1990
The Strad first featured Hahn in a cover interview for the November 1999 issue. The then-19-year-old described the breakthrough moment when conductor David Zinman and members of the Baltimore Symphony Orchestra heard her rehearsing for that debut recital and decided to take her under their wing. In the following excerpt she describes the mentorship she received in those early days, and explains her daring repertoire choices for her first two recordings:
'David Zinman always gave me very good advice. Like to stay in school until I was ready, also not to go to management too soon or record before I thought I was ready. All my teachers at Curtis, the administrators at Curtis and the Baltimore Symphony, they all said the same thing. So when the time came I knew it was right.'
For Hahn, the time was right when she was 16. She had agreed to an exclusive recording contract with Sony Classical. Sony asked her what she wanted to record for her first CD. 'Solo Bach,' she said without hesitation - to their horror.
Even Jaime Laredo, who had taken over the role of mentor when Jascha Brodsky died, was a little nonplussed. 'I didn't think it was the best idea,' he told the American magazine Newsday in a subsequent interview. 'But then I heard her play the Bach D minor Partita in Curtis Hall. It was, bar none, the best performance I've ever heard of that piece.'
Meanwhile, distinguished colleagues have waited decades before daring to record the same repertoire. Hahn shrugs. 'I guess everyone speaks for themselves. For me, the Bach was my most-played repertoire, so in a way it made the most sense to record it. The other great thing was that it was solo, so I could have as much time as I wanted to record it. I recorded it over the course of about a year and three months, and we would work through the night. And since it was Bach, everyone knew how important it was to get it just how I wanted it, and I had a lot of support.'
The next recording was doubly daring - the Beethoven Violin Concerto and Bernstein's Serenade. 'The Bernstein came to me completely by chance,' Hahn writes in her sleeve note. 'I had never heard of it until 1993, when I was invited to play it as a soloist at an American festival in Budapest. When I told Mr Brodsky about the invitation, he blanched and asked if I couldn't play something else. He did not ask just once. For weeks, his standard greeting at my lessons was, "Hello, sweetheart: any news from Budapest?"
'And yet, when it was clear that only Bernstein would do, my distinguished 86-year-old teacher locked himself away for several hours of practice a day for weeks, explaining simply that he couldn't teach me something he didn't know himself. As we studied the Serenade together, we came to relish its American idiom, its dark bravura, its jaunty cheekiness. Mr Brodsky is gone now, but every time I play this piece, I remember his question, "Any news from Budapest?" - and I am as glad as he was that the answer was always, "No, still Bernstein".'
Read: Hilary Hahn on recording a second instalment of solo Bach – 20 years after the first
Watch: Hilary Hahn on her new Bach disc