The Brussels based competition has announced the finalists in its under-10 and under-21 categories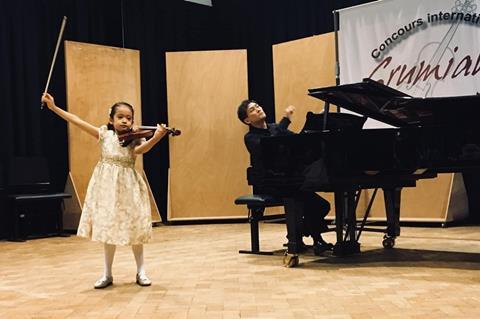 The International Grumiaux Competition for Young Violinists, taking place at the Royal Conservatory of Brussels from 7 to 10 March, is split into four age groups, for those aged under 10, 13, 17 and 21 respectively.
Its category A (under-13) and category D (under 21) preliminaries took place yesterday, 7 March, and the finalists are:
Category A:
Artemova Anisiya (9, Russia)
Borchardt Diana (9, Germany)
Carus Anton (10, United States)
Erdenebat Khanui (10, Mongolia)
Gergov Kai (8, Bulgaria)
Güngör Defne (9, Turkey)
Kim Sumin (10, Korea)
Martinez Nao (10, France)
Nakahara Riisa (10, Japan)
Nguyen Nguyen Le (10, Vietnam)
Ryabovol Denis (10, United States)
Şabi Nil Ipek (10, Turkey)
Yoshimura Himari (7, Japan)
Category D:
Ariga Kanau (19, Japan)
Blekh Leon (19, Netherlands)
Emson Amber (18, Germany)
Hirsch Samuel (19, Switzerland)
Kobayashi Kanon (21, Japan)
Spahiu Selma (19, Sweden)
Tanimoto Rika (18, Japan)
Uchio Ayaka (21, Japan)
Yamamoto Taishin (19, Japan)
Category B and C prelimiaries take place today, 8 March. In total the jury, chaired by Igor Tkatchouk, will be hearing 70 young violinists
Previous laureates of the competition include Daniel Lozakovich, Lara Boschkor, Olga Šroubková and Sumina Studer.