Celebrating Hungarian culture on an international stage, this year's edition will take place from 14 to 23 July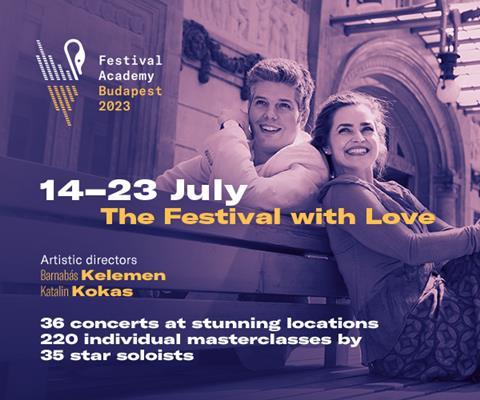 With 36 stately concert venues, 35 world-famous soloists, 100 university students and 150 younger students, the Festival Academy Budapest's 'Summer Miniverse' is redefining the essence of the summer classical music festival. Founded by the violinist couple and artistic directors Katalin Kokas and Barnabás Kelemen, this event, cited by both Joshua Bell and Vilde Frang as one of their favourite international festivals, has in only eight years matured into a simultaneously instinctive and intentional concept of combining masterpieces representing the high art of classical music with folk and Hungarian Gypsy music, along with an all-embracing programme of masterclasses.
The festival is a complex system, having grown into a Festival Academy Budapest miniverse that, in addition to making Budapest the chamber music capital of the world for ten days each summer, connects the glittering world of the stage with the art of teaching all year round.
A unique feature of the Festival Academy Budapest's series of summer concerts is that, in addition to concerts, it also organises masterclasses and international violin competitions. This makes it just as much of an enormous event as the concerts do. All of the artists who perform at the concerts also teach, taking advantage of the time between their concert and rehearsal schedules. Joining the audience at the concerts are students and teachers coming for further training in the beautiful Great Hall of the Liszt Academy and other unique and atmospheric Budapest music venues. This makes it a rarest opportunity for young music students to learn from the world's finest performers. It is a huge source of inspiration for the students to be able to listen to each other's lessons, form chamber groups, perform together, and even make lifelong musical friendships. As they experience Hungary's unique culture, they will also get a taste of Gypsy music and Hungarian folk music at group master classes.
The violin professors coming to hold masterclasses are Hagai Shaham (ISR), Mihaela Martin (ROU), Boris Brovtsyn (RUS), Augustin Dumay (FRA), György Pauk (HUN) and Eszter Perényi (HUN). We will also have a strong focus on cellists, with Leonid Gorokhov (GER, GBR), Frans Helmerson (SWE), Kian Soltani (AUT, IRN), Christian-Pierre La Marca (FRA) coming from abroad to teach.
The Hungarian artists sharing their knowledge include Gyorgy Kurtág, László Fenyő, Dóra Kokas and Miklós Perényi. We are especially pleased to have vocalists joining the instrumentalists in the classes: Éva Marton has accepted our invitation and will teach young singers coming here from all over the globe during all ten days. Also on board are some of the world's finest pianists and other instrumentalists: Shai Wosner (ISR), Jose Gallardo (ARG), Klára Würtz (HUN), János Balázs (HUN), Dénes Várjon (HUN), András Keller (HUN), Andreas Ottensamer (AUT), Jonathan Cohen (GB), Zsolt Fejérvári (HUN) and Gábor Boldoczki (HUN).
The name that Béla Bartók gave to his own series of pedagogical works was 'Mikrokosmos', which has become the most comprehensive and important guide for young people learning to play the piano since Bach's own efforts. The revealing title tells us what the work truly entails: more than a series of etudes of increasing difficulty, it also comprises a complete musical worldview, synthesis and starting point. The ten-day summer events of the Festival Academy Budapest can rightly be called a MINIVERSE.
Watch a documentary of the 2022 Festival Academy Budapest below. Find out more about the 2023 edition at https://fesztivalakademia.hu/en/