Airline blames 'miscommunication' for incident which saw a student musician escorted off an aircraft having already strapped in her cello and been seated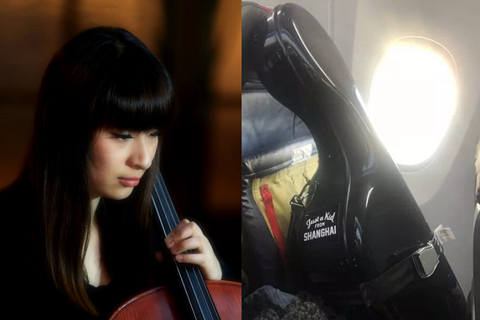 DePaul University School of Music student Jingjing Hu was scheduled to travel from Miami to Chicago with American Airlines on Friday. She was on the return leg of a journey for which she had booked separate seats for herself and her cello.
Having flown to Miami without incident, she also had a smooth run on the return flight, boarding in plenty of time, and strapping her cello into the spare seat with an extended belt provided by a flight attendant.
At that point, she was apparently told that she would have to disembark because the aircraft, a Boeing 737, was too small for the cello.
She was promised a seat on the next flight, just an hour later – but back in the airport told that that flight was also on a small plane, and she would have to wait for the morning.
Hu, who remonstrated on the basis that she had been misled and that, in any case, the cello could fit in the aircraft without a problem, claims she was then surrounded by three law enforcement officers.
Her husband Jay Tang took to social media to recount the story: 'I could have been told those regulations when purchasing the ticket,' he wrote. 'My wife could have been told those regulations when flying from Chicago to Miami, at check in counter in Miami International Airport, at the gate or even when boarding the plane. Yet they chose to kick her out last minute after she was seated and her cello safely secured.'
Tang said that an American Airline customer service representative had promised a 'deep dive' into what went wrong.
The story was subsequently picked up by US national media, including a report on NBC 5 (see below). American Airlines told NBC 5 in a statement there was a 'miscommunication' about whether the cello met the requirements to fit onboard the aircraft.
'We apologize for the misunderstanding and customer relations will be reaching out to her,' the statement said.
The airline's regulations as publised online state:
'If your instrument doesn't fit in the carry-on baggage space, you can choose to buy an additional seat which: Costs the applicable adult fare plus any applicable taxes or carrier-imposed fees; Is a bulkhead (divider) window seat (not in an Emergency Exit row); Is directly next to yours.
'If you choose to buy an additional seat for your instrument, please note that seat baggage must not weigh more than 165 lbs. (75 kg) and must meet seat size restrictions based on airplane type.'
Watch: NBC 5's report on the incident