At 29 years old, the violist of the Marmen Quartet is one of the youngest professors at the college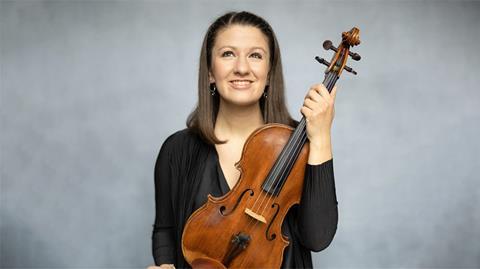 Read more news articles here
New Zealand violist Bryony Gibson-Cornish has joined the Royal College of Music (RCM) faculty as viola professor for the 2022-23 academic year. Gibson-Cornish has been teaching chamber music and assisting her former professor, Andriy Viytovych, at the RCM since 2017.
Gibson-Cornish left New Zealand in 2012, pursuing a master's degree at The Juilliard School as a Fulbright Scholar. Since moving the the UK, she furthered her studies at the RCM, where she was awarded the Tagore Gold Medal upon graduation. She is the recipient of numerous grants and scholarships, including the Countess of Munster Musical Trust and the Pettman Foundation.
Gibson-Cornish is the violist of the Marmen Quartet, winners of the Banff and Bordeaux International String Quartet Competitions in 2019. The quartet are Peak Fellowship Ensemble in Residence at Southern Methodist University in Dallas, Texas and have performed at the BBC Proms, Berlin Philharmonie, Stockholm Konserthuset and Wigmore Hall, and biennial appearances in Amsterdam, Barcelona and Lisbon (Gulbenkian Foundation). Gibson-Cornish is also a member of the London Mozart Players, where she is holds the position of viola no.2.
She plays a 1932 Vincenzo Sannino Viola, Rome, Italy, thanks to the Loan Fund for Musical Instruments.